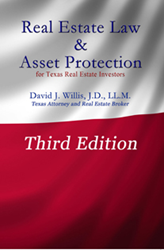 Includes new chapters and extensive updates reflecting changes in Texas real estate law and practice.
Houston, TX (PRWEB) January 13, 2015
Attorney David Willis of LoneStarLandLaw.com announced the publication of the third edition of his popular guide for Texas Real Estate Investors titled Real Estate Law & Asset Protection for Texas Real Estate Investors. The 353 page book has received multiple 5-star reviews on Amazon and Barnes & Noble. Investors and attorneys all over Texas have found it to be an excellent reference, bringing relevant state and federal law together in one easy-to-read and accessible volume.
The focus of Willis' law firm is the intersection of real estate law and asset protection, and he has pioneered the use of numerous creative techniques in this field. He is an advocate of using the new series LLC to organize investments into separate, insulated compartments and favors Texas and Nevada as states of formation. "The series LLC is an ideal vehicle for real estate investors with multiple properties," asserts Willis, "particularly when used as part of our recommended two-company structure. One company (which can be a traditional LLC) acts as a shell management company, signing contracts and leases, while a separate series LLC remains quietly in the background as a holding entity for hard assets. This accomplishes a separation of assets from activities, a core principle of asset protection."
David Willis has over 30 years of experience in Texas real estate transactions and litigation. He is double board certified in residential real estate law and commercial real estate law by the Texas Board of Legal Specialization and is also a licensed real estate broker. He is frequent lecturer at real estate clubs and investor organizations. Willis' many articles on real estate, asset protection, and other topics of interest to real estate investors can be found on his website lonestarlandlaw.com.
Contact:
David Willis Attorney
http://www.LoneStarLandLaw.com
(713) 621-3100