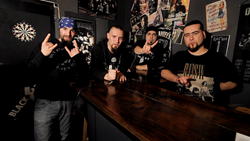 Don't miss the chance to become part of the Odd Crew band history and change their lives forever
(PRWEB) January 13, 2015
Odd Crew, a heavy metal band from Bulgaria, has put together several self-produced albums over the past 15 years. Now they're ready to take their music to the next level, but they need some help.
The band is looking to make a top-of-the-line, world-class album and has recruited a first-rate, experienced producer - Jason Seucof from Audiohammer Studios, Florida.
"Odd Crew is not just a band," says member Boyan (Bonzy) Georgiev. "It's a family. We've been together since we were young kids back in 1998. We were dreamers back then. Today our dream has become a way of living and we put all of our love and energy in it.
"It's hard to make music nowadays, and it can be expensive, too. Throughout the years, we've done everything with the help of our fans and friends who supported us so we could stay true to ourselves and our music."
Recording and production of the new album will start as soon as the funding is in place. "The only thing standing on our way is the lack of money, and we badly need your help with that," Bonzy says. "We don't have a major label. We are not superstars."
They need $35,000 to pay for studio time, Seucof's fee and other miscellaneous expenses. In order to generate this money, Odd Crew has launched an Indiegogo campaign, which can be viewed at http://www.indiegogo.com/projects/odd-crew-s-new-album-coming-to-life.
The Indiegogo page includes videos of the band performing.
Donations of any amount are welcome. For $10, backers will receive a digital download of the new album. For $20, you can get the actual CD, signed by the band. A $30 pledge is rewarded with a signed CD plus an Odd Crew T-shirt. $300 will get your name on all physical copies of all perks from this campaign. Almost $10,000 has been contributed so far.
"We believe our music can really bring a positive vibe to the world and we want to share it with more people. We've got a bunch of great new songs and recording this new album will be a dream come true."
For additional information, visit: http://www.indiegogo.com/projects/odd-crew-s-new-album-coming-to-life
More resources:
Odd Crew site: http://www.oddcrew.net
Facebook page: http://www.facebook.com/oddcrew
YouTube channel: http://www.youtube.com/oddcrewofficial
Twitter account: twitter.com/oddcrew
Google Plus: plus.google.com/+ODDCREWofficial/
Bonzy can be reached directly at oddcrewband(at)gmail(dot)com or 00359888004515.