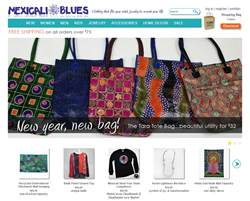 Now any retailer large or small can implement omnichannel features.
New York, NY (PRWEB) January 13, 2015
UniteU®, the leading omnichannel platform provider, today announced the expansion of its product set for Retail Pro® customers. The two companies have worked together as integration partners for more than a decade. This tightly-linked integration has enabled UniteU's new Omnichannel Suite™ for Retail Pro. The product offering makes it easy and affordable for retailers to integrate competitive omnichannel features that bridge the feature gap between online and in-store channels to create better customer experiences for their brand.
Retail Pro- and UniteU-customer Mexicali Blues, a Maine-based specialty fashion retailer with six locations, saw an increase in site-to-store traffic after implementing the 'find-in-store' feature within UniteU's Omnichannel Suite. The feature, which is powered by data from Mexicali's Retail Pro installation, allows Mexicali Blues' retail customers to quickly and conveniently browse products online and identify locations where the products can be found in stock.
"The 'Find in Store' feature on our site helps us meet this new trend in customer expectations," said Topher Mallory, CEO at Mexicali Blues. "Now our customers have immediate visibility to the products they want at a store location that's convenient to them."
Retail Pro's focus on omnichannel readiness illustrates the company's commitment to seamless retail, according to Kerry Lemos, CEO at Retail Pro International. "The Retail Pro software platform is foundational for specialty retail environments and provides retailers with rich point-of-sale features, complete back office functions and reporting capabilities, adding up to the platform required for successful implementation of omnichannel strategies," he said.
Soumen Das, CEO of UniteU states: "We are excited to add UniteU's Responsive Ecommerce and Omnichannel Suite to the world-class Retail Pro software platforms so retailers can benefit from a solution that melds in-store and online, while offering their customers a more seamless online/offline experience."
Analyst firms such as Forrester Research Inc. agree that omnichannel capabilities are becoming essential for meeting emerging new retail consumer demands and expectations. A December 2014 Forrester report confirmed that consumers expect more universal access to inventory than ever before. "Today, 70% of US online consumers state that they use buy online, pick up in-store (BOPIS) to some degree, with 5% of them stating that they use it every time they make a purchase with an in-store pickup enabled retailer." ["Nailing In-Store Pickup," Forrester Research Inc., 2014.]
"With the Omnichannel Suite retailers can quickly deploy a myriad of omnichannel features to their digital footprint, including find in-store, buy online pickup in-store, reserve online pickup in-store, endless aisle and ship-to-store," said Soumen Das, CEO at UniteU. "These features are normally only available to large retailers with big budgets and in-house, custom-built solutions," Das said. "But with the synergies of a Retail Pro and UniteU integration, now any retailer large or small can implement these features. We see these capabilities as paramount for retailers who are competing in the dynamic new retail landscape."
To learn more about the tools and capabilities available in UniteU's Omnichannel Suite visit http://www.uniteu.com. UniteU is also showcasing the new technologies and providing live demonstrations of them this week at booth #4543 in the EXPO at the National Retail Federation's annual "Big Show" at the Jacob K. Javits Convention Center in New York City, January 11-14, 2015.
About UniteU Technologies (http://www.uniteu.com):
UniteU creates technology that allows retailers to provide unified commerce experiences across channels and devices. UniteU offers a wide range of modular omnichannel commerce solutions and services including responsive eCommerce websites for desktops and tablets, Hybrid Responsive™ mobile commerce sites, Omnichannel Suite™, UMO™ integrated mobile POS for transacting in-store and at events, SendReady™ email address validation services and UniteU Commerce™, UniteU's powerful software-as-a-service (SaaS) commerce platform and infrastructure that embodies more than 15 years of omnichannel insights and high-volume experience. UniteU's superior technology and performance has resulted in an impressive client list that includes City Sports, Joes Jeans, Pharmaca, the Miami HEAT, American Solutions for Business, and all Worldwide Golf properties and brands, including Edwin Watts and Roger Dunn.
About Retail Pro International
Retail Pro International (RPI) is a global leader in retail management software that is recognized world-wide for rich functionality, multi-national capabilities, and unparalleled flexibility. For over 25 years, RPI has innovated retail software solutions to help retailers optimize business operations and have more time to focus on what really matters - cultivating customer engagement and capitalizing on retail's trends. Retail Pro is the chosen software platform for omni-channel strategy by serious retailers everywhere. To learn more, visit http://www.retailpro.com