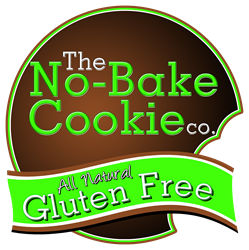 Wholesome goodness in every bite!
Bend, OR (PRWEB) January 14, 2015
On Wednesday, January 14th, The No-Bake Cookie Company will be a featured retailer on QVC's popular Food Fest segment, airing on national television from 3-6 p.m. EST. QVC is widely regarded as the world's top multimedia shopping company, with programming available in 300 million homes worldwide.
Like most good stories, The No-Bake Cookie Company started with a kitchen and a dream. "Our children loved coming home to No-Bake Cookies," says co-founder Carol Healy. Eventually, word got out about her mouthwatering cookies and the Healys began making huge batches for the neighborhood market and deli they have owned for the past 20 years. The cookies disappeared from the shelves as quickly as they arrived. "Who would have imagined that a cookie would be the star of the store?" Tom Healy laughs.
"There was definitely a need for a good, all-natural, gluten-free cookie," he continues. "We answered the call by putting a fresh spin on a classic treat." What began in the family kitchen has now grown to become a national company.
Made in a dedicated gluten-free facility, the company's No-Bake Cookies are crafted with certified gluten-free rolled oats, natural nut butters and simple ingredients. Their cookies are also preservative-free and GMO-free.
The exclusive No-Bake Cookie Company lineup for Wednesday's QVC offering includes four of their popular cookie flavors: Chocolate, Chocolate Walnut, Peanut Butter and Almond Butter. Sold as an assortment of (24) 2 oz. cookies per box, the Healys are hoping to introduce more people to the nostalgia surrounding their product.
"No-Bake Cookies have been an American tradition for more than 60 years. Many people remember these cookies from their youth. We just want to continue the tradition of homemade goodness in every bite."
About The No-Bake Cookie Company
The No-Bake Cookie Company, headquartered in Bend, Oregon, features handcrafted, all-natural, gluten-free cookies for wholesale, retail and online purchase. Their mission? To make the best cookies for people who love cookies.
The No-Bake Cookie Company's eight delicious flavors can be found in retail locations nationwide.
Tom or Carol Healy
The No-Bake Cookie Company
877-390-0001
Tom(at)thenobakecookieco(dot)com