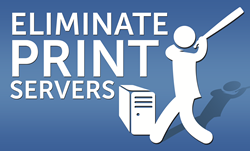 St. George, UTAH (PRWEB) January 14, 2015
PrinterLogic, the leading Enterprise Printer Management solution, today announced that it will participate in a Webinar hosted by Redmond Magazine on how to eliminate print servers when migrating from Windows Server 2003. Led by printer industry expert and founder of PrinterLogic, Jarrett Taylor, and moderated by Tony Bradley, Editor-in-Chief of TechSpective.net, attendees of the Webinar will learn how to avoid print-related issues during server migration, regardless of whether organizations decide to pursue a server-replacement or a server-consolidation strategy.
Redmond Magazine Webinar At-A-Glance
Title: Windows Server 2003 End of Life - Don't Migrate! Eliminate Your Print Servers
What: Windows Server 2003 is approaching end-of-life. It is an ideal time to eliminate your print servers. Historically speaking, when it comes to server migrations, you've only had two options. The first option is to swap out all old, unsupported servers for newer versions. The second option is data center consolidation. Both of these traditional options have serious consequences and problems. But there is another option. In this webinar, we will take a deeper look at your options and break down the steps involved in each, with specific emphasis on available print server migration paths.
Giveaways: All registrants who participate will receive a free copy of PrinterLogic's "Windows Server 2003 Migration" White Paper.
When: Thursday, January 22, 11 a.m. - 12 p.m. PT/2 p.m. - 3 p.m. ET
Where: Redmond Magazine Webinar Series. To register for this free event, click here.
About PrinterLogic
PrinterLogic is the world's leading Enterprise Printer Management solution for server-less remote site printer deployments. With more than 1,500 customers in over 120 countries, PrinterLogic enables organizations of all sizes to eliminate print servers. PrinterLogic's single integrated printer management platform is an on-premise web application that simplifies the management, migration, and deployment of printers while drastically reducing cost. For more information, or for a free trial, please visit http://www.printerlogic.com. Questions? Connect with us on Twitter at @PrinterLogic.