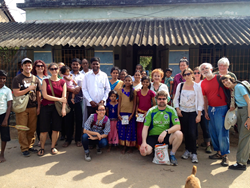 …inspirational and even life-changing
(PRWEB) January 22, 2015
Created back in 2005, VegVoyages emerged through the idea that when visiting another country, people should personally experience and immerse themselves into the life of the local culture; for them to become more than just tourists, but guests. Kate Goldhouse who recently traveled with VegVoyages to Malaysia said she and her husband never felt like tourists. "Being a spectator in a new country may open your eyes, but being a participant will open your heart. VegVoyages did this to us -- opened our hearts," she remarked.
Founded by vegan/vegetarian avid travelers, Zac Lovas and RK Singh coupled this idea with their belief in vegan living to create an impressive and unique adventure. Their concept became a hit and in 2014, VegVoyages was honored with "The Most Exciting Brand" award at the Green Festival held in NYC.
"We are a small company compared to many of the big names here," said RK Singh, one of the partners in VegVoyages, "so to receive this award, it really took us by surprise!"
In celebrating their ten year anniversary, VegVoyages, who started with three tours back in 2005 and now run over twenty adventures a year in five different countries, wants to thank previous travelers, invite new ones and support causes that are close to their travelers' hearts back at home. For every traveler that signs up between January 26th (India's Republic Day, coincidentally) and February 28th, 2015, for any of their trips in 2015, VegVoyages will donate 5% of the tour cost to any charity, foundation and/or shelter of their traveler's choice.
"We want to thank everyone who has traveled with us over the years and who make it possible for us to keep doing what we love," Zac Lovas, a founding partner in VegVoyages elaborated, "this is our passion, providing cultural experiences where our guests are taken as far from their daily life as possible and completely immersed into the culture, customs and traditions of another; the idea is to encourage a better understanding and respect for each other's cultures and way of life."
VegVoyages is not new to giving back to the community. They support several local schools in India, grassroots animal rescue and sanctuaries in India, Thailand, Malaysia, Laos and Indonesia, and local social welfare and rehabilitation projects in Laos, Indonesia and India. A trip with VegVoyages always involves some sort of social work, whether it's putting together supplies at local markets for school children, helping out at animal sanctuaries or serving up vegan lunch at a children's home. The generous acts the travelers engaged in to give back to the local communities have even been featured in local newspapers in Asia.
"My VegVoyages trips have been so inspirational and even life-changing," says Nan Alderson who has traveled with them twice in India and once in Laos. "I am so looking forward to our Sumatra adventure with them in June," Nan continued.
ABOUT VEGVOYAGES
VegVoyages offers vegan adventure tours in India, Laos, Malaysia, Indonesia and Thailand. Founded in 2005, VegVoyages is a family owned company whose passion is for traveling, cultural immersion and enjoying plenty of local vegan food along the way. VegVoyages directly organizes and oversees every one of their adventures creating personal journeys that focus on cultural immersion, local interaction and bridging cultural gaps. For information, please visit http://www.vegvoyages.com. You can also find them on Facebook, Twitter @VegVoyages and Instagram.