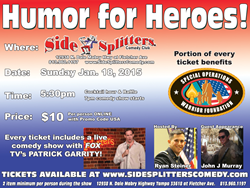 Tampa, FL (PRWEB) January 13, 2015
Patrick Garrity brings his blend of wit and self-deprecating humor to Side Splitters Comedy Club on Sunday, with a portion of ticket sales from his 7 p.m. show going to the nonprofit Special Operations Warrior Foundation.
Since 1980, the SOWF has provided funds for college to children of U.S. Special Operations Forces military personnel killed in the line of duty. The foundation also furnishes overnight financial stipends to wounded and hospitalized special operations warriors so their families can join them bedside immediately; and provides educational and family counseling.
Humor for Heroes will be hosted by Ryan Steiner, and include a guest appearance by John J. Murray. A cocktail hour will begin at 5:30 p.m., during which time a raffle will be held.
Side Splitters is at 12938 N. Dale Mabry Hwy., at Fletcher Avenue.
Tickets are $10 to $12, and can be purchased for $10 online using promo code USA.
Visit sidesplitterscomedy.com for more information and tickets.