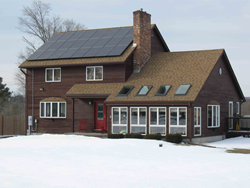 Solarize Ossining–Briarcliff is a remarkable collaboration of local governments, non-profits, community organizations and industry leaders
Ossining, NY (PRWEB) January 14, 2015
January 14, 2015: Town of Ossining; Villages of Briarcliff Manor & Ossining
Solarize Westchester has selected the Town of Ossining, and the Villages of Briarcliff Manor and Ossining, to participate in a solar discount program that will make going solar easy and affordable for their residents and businesses. Green Ossining, a community-based environmental resource protection and sustainability volunteer organization, will be assisting in the public outreach for this project. The Solarize Ossining–Briarcliff coalition will kick off with two workshops on January 24th, 2015 from 10AM-12PM at the Briarcliff Manor Public Library and January 29th, 2015 from 7PM-9PM at the Ossining Public Library. Both dates will be opportunities for residents and business owners to learn about the program.
Solarize Ossining–Briarcliff increases the opportunities for residential and commercial solar through a proven formula. Group discounts offered by a pre-selected, qualified solar contractor are coupled with extensive community outreach and education to create awareness and build interest. A clear end date motivates residents to act. Solarize Ossining–Briarcliff has a goal to have 50 signed contracts for solar by the end of the campaign.
After a thorough pre-qualification process, Town of Ossining, Village of Ossining and Village of Briarcliff Manor officials have selected Ross Solar Group as the designated solar contractor for Solarize Ossining–Briarcliff residential properties. Residents and businesses who sign up for solar installations by June 1, 2015 will be able to take advantage of group rates significantly below market prices—and the more people who sign up, the lower the price will be for everyone—even the first to enroll!
Town of Ossining Supervisor Susanne Donnelly commented, "Our Town has a record of supporting initiatives that offer both environmental and economic benefits. Solarize Ossining–Briarcliff will provide our residents and business owners with the opportunity to make a sound investment, reduce their energy costs, lower our carbon footprint and support local jobs."
Briarcliff Manor VillageMayor William J. Vescio commented, "Briarcliff Manor has been consistently encouraging the expansion of solar energy. Our own buildings and those of many of our residents indicate a determination, now more than ever, to move into this new age opportunity. We believe that the Ossining and Briarcliff Manor coalition will simplify the daunting task of selecting solar contractors as well as ease the time consuming tasks when looking for professional, high quality products and workmanship. While this is a great opportunity for communities to work together, the real benefit will go to our residents and commercial interests."
Ossining Village Mayor Victoria Gearity commented, "Solarize Ossining–Briarcliff is a remarkable collaboration of local governments, non-profits, community organizations and industry leaders. We all need to find ways to spend less on our utility bills and use energy more wisely. Solarize Ossining–Briarcliff breaks down barriers, and makes it easier for our residents and small businesses to get solar on their properties."
Solarize Ossining—Briarcliff is part of the Solarize Westchester Campaign, partnering with the New York State Energy Research and Development Authority (NYSERDA) under Governor Andrew M. Cuomo's NY-Sun initiative, which is a $1 billion investment in solar power through 2023 to significantly expand solar installations across the State and to ultimately transform New York's solar industry so it becomes self-sustaining.
Solarize Ossining–Briarcliff will officially kick off later this month with two community workshops on Saturday, January 24th, 2015 at the Briarcliff Manor Public Library from 10:00 AM – 12:00 PM, and Thursday, January 29th, 2015 at the Ossining Public Library from 7:00 PM – 9:00 PM. Residents and businesses owners who are interested in learning more about Solarize Ossining–Briarcliff are urged to attend.
More information about Solarize Ossining–Briarcliff can be found by visiting http://www.solarizewestchester.com/Ossining-Briarcliff or by contacting Ross Solar Group at 203-512-4500.
About Solarize Westchester: Solarize Westchester is an initiative supported by NYSERDA and will include two rounds of Solarize Campaigns each with four pre-selected communities. In addition, Solarize Westchester includes a Solar-friendly Permitting and Zoning component, to help Westchester municipalities implement processes and regulations that encourage residential and commercial installations of solar energy systems in a manner that is safe and consistent with local and state construction codes and zoning rules. Solarize Westchester is a collaborative effort by the following partner organizations: Energy Improvement Corporation, Abundant Efficiency, Croton Energy Group, Pace University Land Use Law Center, Smart Power, and Sustainable Westchester. For more information, visit the Solarize Westchester website at http://www.solarizewestchester.com
About Ross Solar Group: Family owned and operated, the Ross Solar Group provides custom designed turn key solar solutions to both commercial and residential customers throughout the Northeast. Founded by Jason and Joshua Ross in 2007, Ross Solar received the prestigious SunPower Intelegant Award in 2012 for their contribution to a 345-kilowatt installation at North Shore Community College in Danvers, Mass., and was also named SunPower National Top Producer in 2013, and Regional Commercial Dealer of the Year in 2011. Since their inception, Ross Solar has installed over 15,000,000 watts of solar in the Northeast, including installations for Walmart, Bed, Bath and Beyond, Jetro Restaurant Depot, and Pfizer Pharmaceuticals. For more information, visit http://www.rosssolargroup.com.