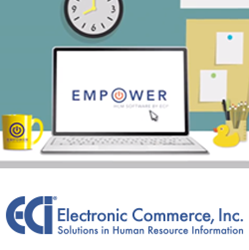 Connecting teams and processes with Empower HCM is our goal and our new product tour inspires this - Jeff Lacy, President and CEO
Elkhart, IN (PRWEB) January 13, 2015
Electronic Commerce, Inc. (ECI®) releases a new online product demo with fresh and engaging views of its robust end-to-end Human Capital Management software solution, Empower.
The colorful new demo, created in a modern flat-design, gives viewers a look at the fully unified Empower HCM in action as it transitions from one product to the next. The product tour shows Empower's all-in-one, fully unified solution to HR, Payroll, Benefits and more, covering the entire employee lifecycle.
"Connecting teams and processes with Empower HCM is our goal and our new product tour inspires this, while communicating our client retention rate and award-winning customer support," said Jeff Lacy, President and CEO.
HR teams using ECI Empower save time, money and boost efficiencies inside a user-friendly interface that connects 100% of HR processes, with one login, and are never more than three clicks away from the information they need using Empower's HR management tools. The intuitive software solution maximizes time with Talent Acquisition, Core HR and Talent Development tools.
"With our rapid-implementation methodology and dedicated project management team, users can be up and running with Empower HCM quickly and experience a seamless transition," said Lacy.
Watch the new product tour here.
About ECI
Specializing in HCM solutions, ECI® created its Empower software to provide mid-sized companies with a cloud-based, fully unified platform that covers the entire employee lifecycle. Users can seamlessly transition from one HR task to the next inside a secure, single database. Leveraging cloud based, SaaS (Software as a Service) deployment, single sign on access and a variety of user-friendly features, Empower delivers the ability to streamline communication, automate workflows and simplify the user experience across a full scope of employee administration requirements. ECI has earned several awards, but is most proud of a 97% client retention rate. Learn more at http://www.ecipay.com or call 800-320-9530.
For additional information, please contact:
Leanne Phillips
Director of Marketing
Electronic Commerce, Inc.
2810 Dexter Drive
Elkhart, IN 46514