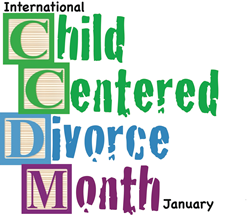 Being smart from the start can help you save money in your divorce and that savings can be spent on your child's education, rather than your attorney's child."
Atlanta, GA (PRWEB) January 14, 2015
January is International Child-Centered Divorce month. To promote understanding and foster more cooperation among divorcing and divorced parents free resources are being offered for parents, grandparents, educators and others who care about divorce issues.
Parents can access their divorce and parenting-related gifts by visiting http://www.divorcedparentsupport.com/ebook/ where they will receive complimentary gifts designed to help guide them to better decision making around issues related to their children, before, during, and long after their divorce.
For many people going through divorce there can be a sense of overwhelm and confusion and a wondering of "Where do I begin and how do I protect my children?" Lisa C. Decker, a Certified Divorce Financial Analyst™ and founder of Divorce Money Matters® http://www.DivorceMoneyMatters.com, and DivorceTown® USA http://www.DivorceTownUSA.com helps those who are in the midst of divorce to start smart by educating them on peaceful paths to resolution that allow them to put their children's needs first.
"When children are involved in a divorce, they need to be the first focus so that they come through the experience as unscathed as possible," states Ms. Decker. "When you come from this angle you get the benefit of being able to work through the financials from a more civilized place along with the added advantage of usually saving lots of money in legal costs. Being smart from the start can help you save money in your divorce and that savings can be spent on your child's education, rather than your attorney's child."
To highlight International Child-Centered Divorce Month, Ms. Decker interviewed the Founder of the Child-Centered Divorce movement, Rosalind Sedacca. During the interview they shared insights on how to avoid dangerous parenting mistakes and apply effective techniques for co-parenting. Lisa Decker, CDFA interviews Rosalind Sedacca on Child-Centered Divorce.
"Divorce professionals around the world will be participating to remind parents about their responsibility to their children's well-being before, during and after divorce," says Rosalind Sedacca, a Divorce and Parenting Coach and Founder of the Child-Centered Divorce Network. "Our purpose is education and mistake prevention. We want to encourage respectful co-parenting, teach effective communication skills, and guide parents away from litigation and toward cooperative, mediated solutions whenever possible," she adds.
Money troubles are known to be a factor in the cause of many divorces and with the economic climate of today it is even more imperative that people have an objective viewpoint on spousal and child support, the division of assets and debts, as well as, tax issues and solutions. CDFA's work with their clients to clarify their goals, analyze proposed settlements and offer alternatives and solutions to problems that they may not even be aware of. As a discreet problem-solver, Ms. Decker states, "My goal is to guide my clients to 'Divorce Your Spouse, Not Your Money®'."
In addition, through her new online community, DivorceTown®USA.com, Lisa hosts are a variety of events designed to bring professionals and potential clients together in online and offline communities and events so families transitioning thru divorce can get the best outcome possible for their finances, their family and their future. This is what drives her personal mission to "Improve the way America divorces, one family at a time™."
About Lisa Decker:
Lisa C. Decker, Certified Divorce Financial Analyst, is a discreet problem-solver as she helps clients move from confusion to clarity in their divorce guiding them step-by-step from contemplation through completion. A nationally recognized expert in the financial matters of divorce and she is the author of the new book, How to "Divorce Your Spouse, Not Your Money® (available on amazon Kindle).
Ms. Decker is also a sought out speaker, frequent radio show guest and featured expert on ABC, NBC, CBS, FOX and CW affiliates nationally, along with CNBC.com, ForbesWomen.com, NY Times, Wall Street Journal, Business Week, and Oprah magazines speaking on topics that help people to be smart from the start and have saner, savvier, money-saving divorces. For more information, call 866-722-7226 or visit her website to receive a complimentary Illustrated Road Map and Navigational Guide to Getting through Divorce - http://www.DivorceTownUSA.com