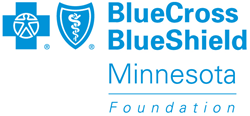 "We are thrilled to have the expertise and vision Nancy and Bukata bring to the board as we address the community conditions affecting health," Michael Guyette, Blue Cross CEO and Foundation Board Chair
EAGAN, Minn. (PRWEB) January 15, 2015
The Blue Cross and Blue Shield of Minnesota Foundation welcomes Nancy Vyskocil and Bukata Hayes to its board of directors. Vyskocil is president and CEO of Northwest Minnesota Foundation, and Hayes is executive director of the Greater Mankato Diversity Council. The board now totals eight members including four community members and four senior leaders of Blue Cross and Blue Shield of Minnesota.
"We are thrilled to have the expertise and vision Nancy and Bukata bring to the board as we address the community conditions affecting health," said Foundation Board Chair Michael Guyette. "And because we support nonprofits statewide, we're pleased to have these leaders from greater Minnesota."
Nancy Vyskocil joined the Northwest Minnesota Foundation as president and CEO in January of 2008. Prior to joining the foundation, she served as vice president and CFO for Lake Region Electric Cooperative in Pelican Rapids, Minn., and as director of administrative services for Arvig Communications in Perham, Minn. She has a bachelor's degree in accounting from Bemidji State University and a master's degree from North Dakota State University. She is a certified public accountant licensed in Minnesota and also holds the designation of certified management accountant and senior professional in human resources.
Bukata Hayes has served as the executive director of the Greater Mankato Diversity Council since September 2006. Prior to this role, he served as the coordinator of the Multi Ethnic Center at Bethany Lutheran College in Mankato, the first-ever position of its kind at the college. He received his bachelor's degree in exercise physiology from the College of St. Scholastica in Duluth, Minn.
For more information on Blue Cross' grantmaking programs, call (651) 662-3950 or toll free at 1-866-812-1593, or visit our website.
The Blue Cross and Blue Shield of Minnesota Foundation exclusively dedicates its assets to improving health in Minnesota, awarding nearly $40 million since it was established in 1986. The Foundation's purpose is to make a healthy difference in communities by advancing health equity and improving the conditions where people live, learn, work and play.
–30–