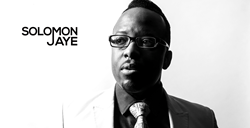 Orlando, FL (PRWEB) January 13, 2015
As the New Year is kicking off, multi-talented founding member of the groundbreaking vocal band "The Edge Effect," Solomon Jaye is excited to announce the debut of his inaugural solo album "Ordinary Man" to be released in late March of this year. The highly-anticipated solo record is the culmination of over a decade of Jaye's distinguished musical highlights including performing with winners of MTV's "Top Pop Group," Boyz II Men's "Next Great A Cappella Group" and "America's Got Talent" finalists The Edge Effect; premiering a solo show on the world's largest cruise ship Oasis of the Seas; taking center stage in "Hairspray: The Musical" for Royal Caribbean; opening for Robin Thicke and Sky Blue (LMFAO) at the Florida SunFest Music Festival; sharing the stage with Broadway superstar Shoshana Bean, renowned saxophonist Mindi Abair, Las Vegas' Santa Fe and the Fat City Horns and many more.
Ordinary Man will feature six catchy original tracks with some heavy blues influences and recognizable James Brown, Al Green and Otis Redding musical vibes, plus one Jackie Wilson cover. The album is produced by an all-star team of industry veterans: Grammy Award winning engineer Clark Germain, producer Jamey Tate (Al Jarreau, Mindi Abair, David Benoit, David Pack), keyboards by Jeff Babko ("Jimmy Kimmel Live," Frank Ocean, Jason Mraz), guitars by Justin Smith ("Mad Men," "Wicked," "Book of Mormon," LA Philharmonic), bass by David Hughes (David Benoit, Chaka Khan, Melissa Etheridge) and drums by Jamey Tate.
Thirty-year-old singer, songwriter and talented tap dancer Jaye currently resides in Ft. Lauderdale, FL, recently returning to the Sunshine Stage after spending the last several years in New York City. Born in Tampa, FL, raised in Houston, TX and attending college in Georgia and Oklahoma, Jaye's roots are reflected in the soulful "ol skool" style and songs of Ordinary Man. "Ordinary Man is the culmination of my time living in New York," says Jaye. "Everyone can relate to having a difficult job, falling in and out of love and just trying to make something out of your everyday existence."
On going solo, Jaye continues: "Collaborations are beautiful and necessary, and when there's more to say, you have to find an outlet. This is that outlet. These are my stories sitting on the shelf. With all live instruments on the record, including a killer horn section and Grammy Award winning production team, I'm pumped to share it and hope both old and new fans love it as well."
Ordinary Man will be available in late March on iTunes, Amazon and Bandcamp. Get a sneak preview at http://youtu.be/tUrlx7mPTNs. For more news and information on Solomon Jaye, performance dates, album releases and appearances, visit http://www.solomonjaye.com and http://www.facebook.com/sjmusic.
###
MEDIA CONTACT: Ilene Lieber, 321-277-7812, ilene(at)passionprconsulting(dot)com