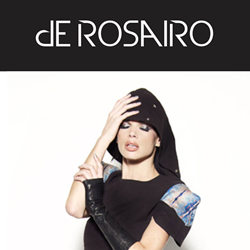 And the best part; we get to dress amazing women all while injecting jobs back into our local US manufacturing sector
San Francisco, CA (PRWEB) January 14, 2015
Luxury womenswear clothing brand dE ROSAIRO launched its online store (dEROSAIRO.com) to a global customer base on January 8th, 2015. Made in New York, the dE ROSAIRO brand is headquartered in San Francisco, the technology hub of the world. With the initial mindset of launching in specialty brick and mortar stores first in order to solicit direct customer feedback, the brand is now strategically morphing into a fashion tech company through their ecommerce platform. dE ROSAIRO is expecting ecommerce sales to constitute 90% of their sales in 2015 by offering purchasing access to a global customer base of women who want to feel empowered to elicit power and success because of what they wear & how that makes them feel.
The dE ROSAIRO brand has been built around the concept of "re-imagining" the hoodie for the modern woman in a way that she is able to incorporate it into her professional & contemporary wardrobe. "I started with re-imagining the fit, the silhouette, the fabrics, with a degree of finesse, & as part of a collection that celebrates the hoodie. Italian wool jackets are designed with hoods that convert into high structured collars. Knit dresses & tops are constructed with a casual chic French drape. The brand is about empowering the modern women with the freedom to juxtapose at the intersection of power & elegance. And the best part; we get to dress amazing women all while injecting jobs back into our local US manufacturing sector," says CEO and Creative Director, Nishika de Rosairo.
As an ex Fortune 500 and Silicon Valley Strategic Advisor, de Rosairo ran her course in the corporate world working and consulting with companies such as Deloitte Consulting, Apple, Salesforce, Cisco, Levi and others. Leaving a successful decade-long career behind to pursue a childhood dream, its only natural that de Rosairo would want to be headquartered close to her own backyard, Silicon Valley. By re-imagining an iconic symbol of American culture, the hoodie, the brand is fundamentally changing how the modern woman interacts with this much-adorned yet previously casual item. "Male CEOs are flaunting hoodies in the boardrooms of the largest tech companies in the world, and now through dE ROSAIRO women have an opportunity to draw equal parallels of power and success in the boardroom to those of their male counterparts", shares de Rosairo.
Since launching less than a year ago, dE ROSAIRO has emerged on an expedited path to success. Strategic partnerships with the Golden Globe Awards, W Hotels, Mondrian Soho, Erno Laszlo, and others have continued to push the brand to new heights. Conceived to meet the everyday demands of the modern woman as she goes from the home to the office to the evening benefit, the debut Fall/Winter 2014 collection "celebrates the creative expression and cosmopolitan glamour of her everyday luxury lifestyle", says de Rosairo.
http://www.facebook.com/dEROSAIRO
http://www.instagram.com/dEROSAIRO
http://www.pinterest.com/dEROSAIRO
http://www.twitter.com/n_dEROSAIRO