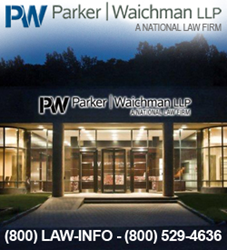 "If the Zadroga Act is reauthorized, numerous first responders and rescue workers who were harmed will receive the compensation and medical treatment they deserve."
Port Washington, New York (PRWEB) January 15, 2015
Parker Waichman LLP, a national personal injury law firm that has spent many years fighting to ensure that the heroes of 9/11 are never forgotten, applauds the continuing efforts to re-authorize the Zadroga Act. New York City Council members are joining in the effort and will introduce a resolution that calls for Congress to reauthorize the Zadroga Act, according to a Silive.com report dated January 7, 2015. The primary sponsor and co-sponsor for the effort are Councilwoman Margaret Chin (Democrat-Manhattan) and Melissa Mark-Viverito (Democrat-Manhattan/Bronx) respectively, in addition to two other members.
According to 9/11 HealthWatch, the Zadroga Act authorized two programs: The World Trade Center Health Program and the re-opened September 11th Victim Compensation Fund (VCF). According to Parker Waichman LLP, exposure to toxic dust in the aftermath of 9/11 caused many rescue workers to develop serious conditions, including respiratory illnesses and cancer. The WTC Health Program provides medical treatment and monitoring for these individuals and the VCF provides compensation to those who developed eligible conditions as a result of this exposure.
Council Speaker Mark-Viverito said in statement, "Many of our brave first responders and survivors still live with debilitating physical and mental health complications from their heroic work at Ground Zero and long-term exposure to toxins in the aftermath," according to Silive.com. The WTC Health Program is due to expire next October and the VCF Fund will expire in 2016. If the Zadroga Act is reauthorized, these programs will be extended for another 25 years through 2041.
Parker Waichman LLP notes that the Zadroga Act is necessary for a number of 9/11 heroes, many of whom may not be diagnosed with eligible conditions for many years into the future. "Since the beginning, our firm has fought for the rights of 9/11 victims," said Matthew J. McCauley, Senior Litigation Counsel at Parker Waichman LLP. "If the Zadroga Act is reauthorized, numerous first responders and rescue workers who were harmed will receive the compensation and medical treatment they deserve."
The WTC Health Program serves 70,000 enrollees in every state and in 429 of the 435 Congressional districts nationwide. More than 20,000 received assistance providing treatment for more than 50 types of cancer in the past year, alone, 9/11 HealthWatch reports.
Parker Waichman LLP, which worked, and continues to fight, alongside Ground Zero first responders and their advocates to help ensure passage of the Zadroga Act, vows to continue its efforts to safeguard these heroes and ensure they receive all of the Zadroga Act compensation they deserve. If you or a loved one are eligible for compensation under the Zadroga Act, and would like assistance with your claim, please visit Parker Waichman's Zadroga Act claims page at yourlawyer.com or call 1-800-LAW-INFO (1-800-529-4636).