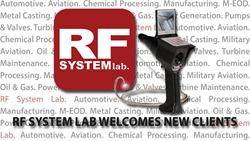 Traverse City, MI (PRWEB) January 15, 2015
RF System Lab, maker of the intuitive VJ-Advance articulating video borescope, had a record month for sales in December, 2014. They are proud to announce an abundance of new inspection camera customers in a wide variety of industries. Clients in December include companies working in fields such as food and beverage, manufacturing, aviation, power generation, aerospace, and more.
RF System Lab is proud to have surpassed their sales goals by adding the companies listed below, as well as many other impressive industry leaders, to its roster of satisfied customers in December.
One of RF System Lab's customers, representing the manufacturing industry, is Eaton. Eaton provides energy-efficient solutions that help their customers in over 175 countries effectively manage electrical, hydraulic, and mechanical power more efficiently, safely, and sustainably. Eaton is using the VJ-Advance articulating video borescope to perform quality checks by internally inspecting engine components for the automotive industry. The VJ-Advance's ease of use and high-resolution photo and video capabilities made the justification of the purchase easy.
Many of RF System Lab's latest customers came from the aviation industry; numerous were a result of the company's successful experience exhibiting at the 2014 NBAA Annual Conference. Two of those customers were New Mexico Airlines and Thunder Airlines of Canada. New Mexico Airlines, the newest, most environmentally friendly airline fleet in the Southwest, is utilizing the VJ-Advance for PT6 engine inspections. RF System Lab also ordered the PT6 guide tube for the aviation company, which is a perfect fit for the 3.9mm VJ-Advance articulating video borescope. Thunder Airlines of Canada, a company located in Thunder Bay Airport that handles scheduled public flights, private charter flights, and cargo flights, purchased the ergonomic VJ-Advance inspection camera to confidently complete power plant and airframe inspections. RF System Lab is actively growing a video borescope client list in Canada. In fact, two other companies located at Thunder Bay Airport are VJ-Advance customers: Pilates Centre Canada and Wasaya Airways.
Red Stripe Beer, maker of a well-known Jamaican Lager beer also recently purchased the VJ-Advance. Red Stripe uses the high-quality VJ-Advance video borescope for inspecting Caterpillar Reciprocating Engine Gen Sets. Red Stripe uses the Gen Sets to supply power for their production facility, meaning they have no room for machine downtime. Therefore, they required a videoscope that would perform preventive and corrective maintenance with ease, which is why they selected the VJ-Advance articulating video borescope. The lightweight, portable VJ-Advance, with its 360 degree joystick-control articulation, is the perfect tool to help keep the power running.
Representing the Power Generation industry, RF System Lab is proud to have the continued business of Exelon Corporation, the nation's leading energy provider. Exelon has been using the VJ-Advance video borescope since 2009 at multiple nuclear and coal power production plants. RF System Lab is grateful to have earned their trust and partnership as a supplier of four-way articulating video borescopes. RF System Lab provided another VJ-Advance for Exelon in December 2014 to assist in completing internal valve inspections.
RF System Lab would like to extend a thank you to its newest clients, as well as all additional clients not listed here for making December a memorable sales month. If you would like to demo the VJ-Advance video borescope, you can sign up for a no-cost, no-obligation demo program. For more information on RF System Lab, please visit their website or call 855-787-6966.