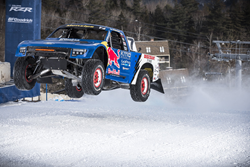 'We're always excited to work with drivers of this caliber and love to watch their rally training carry over to success in the trucks.' - Tim O'Neil
Sunday River, Maine (PRWEB) January 16, 2015
Nine of the top Pro 4 truck drivers in the world descended upon the slopes of Sunday River Ski Resort in Maine last weekend for the aptly named "Red Bull Frozen Rush." Below-zero temps earlier in the week were followed by perfect conditions for Friday's main event, which featured Team O'Neil alums Bryce Menzies and Ricky Johnson battling in the final.
"It's great to see former students ripping it up at such a unique event here in the Northeast," said Tim O'Neil. "Ricky Johnson is a legend in Off-Road racing and Bryce is becoming a dominant force in the sport. We're always excited to work with drivers of this caliber and love to watch their rally training carry over to success in the trucks."
Loose surface training at the infamous facility in Dalton, NH, is becoming standard practice for the biggest names in Rally, as well as other motorsports, looking to gain an advantage in their respective fields. Nascar drivers Greg Biffle, Ricky Stenhouse Jr. and AJ Allmedinger have all spent time at Team O'Neil, in addition to crossover athletes like Travis Pastrana, Bucky Lasek, Ken Block and a host of others.
While asphalt drivers may learn a tremendous amount about what to do if things start to go wrong in a race, dirt pros from Rally to Desert racing come to Team O'Neil to help hone the skills that are critical to success. Brian Deegan, another Team O'Neil alum and multi-sport, off-road racing legend, also competed in the Frozen Rush event, which ended with Menzies taking the crown from last years champ Johnson.
As Tim O'Neil says, "We love the challenge of training professionals from various motorsport disciplines. It keeps us on our toes, and we love it even more when they go on to be champions."
ABOUT TEAM O'NEIL MOTORSPORTS AND RALLY SCHOOL:
Team O'Neil is widely recognized within the Rally racing community as one of the most successful Motorsport brands in the industry. They have dominated the two-wheel drive Rally America Championship for nearly a decade, including the 2014 title, securing the points championship with 2 events still remaining on the schedule. In addition to the Team O'Neil / Ford Racing Motorsports division, the Rally School – located in Dalton, NH, on 600 private acres – has been teaching advanced driving techniques to race champions from almost every motorsports discipline, military and security personnel, and the general public since 1997. They are considered the premier rally racing school in the U.S. http://www.teamoneil.com