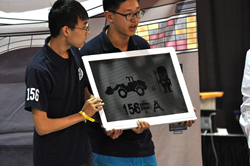 "To become tomorrow's innovators, students must develop their creativity and computer science knowledge over a number of years."
Cherry Hill, N.J. (PRWEB) January 14, 2015
Destination Imagination (DI), an educational non-profit organization dedicated to teaching students the creative process through hands-on STEM (science, technology, engineering and mathematics), arts and service learning challenges, today announced it has teamed with Oracle Academy to advance technology-based learning opportunities for students and teachers worldwide.
Oracle Academy works globally to expand knowledge, skills, innovation and diversity in technology through computer science education.
"There is an urgent need to provide students and teachers access to computing and computer science education. The Association for Computing Machinery's recent report states that by 2020 one out of every two STEM jobs will be in computing. Our DI Challenge program should inspire students to use computing skills in creative ways. I am excited to work with Oracle Academy to ensure that our system of learning includes relevant and engaging opportunities to learn and practice computing skills," said Dr. Chuck Cadle, CEO of Destination Imagination.
Through the collaboration, Destination Imagination will have the opportunity to provide more students around the world with the opportunity to learn and experience the creative process from imagination to innovation, as well as provide its volunteers and educators with access to training materials and hands-on workshops to help foster students with the skills needed to succeed in 21st century.
"The technology skills gap presents a tremendous opportunity for today's students and demands global attention," said Alison Derbenwick Miller, Vice President, Oracle Academy. "To become tomorrow's innovators, students must develop their creativity and computer science knowledge over a number of years. We're thrilled to join Destination Imagination on a shared mission to help put students on a pathway to future success."
For additional information on Destination Imagination, visit http://destinationimagination.org and for more information on Oracle Academy, please visit https://academy.oracle.com.
About Destination Imagination
Destination Imagination, Inc. is a 501(c)(3) cause-driven, volunteer-led non-profit organization whose purpose is to inspire and equip students to become the next generation of innovators and leaders. The most popular education offering is the Challenge Program, where student teams solve open-ended STEM, arts and service learning Challenges and present their solutions at tournaments. Founded in 1982, Destination Imagination has impacted more than 1.5 million students. To learn more, please visit http://destinationimagination.org.