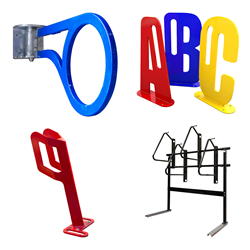 Beyond the stunning design and images, the website offers new features to make it easier for customers to find the perfect bike parking solutions for their project.
Minneapolis, MN (PRWEB) January 14, 2015
Since 1995, Dero has introduced innovative bike parking to the world. Now entering its 20th year, Dero continues this tradition with the new Ultra Space Saver Squared, Cycle Dock™, Type Rider™, and Alley Rack™. A redesigned website highlights these bike racks, and features design guides, how-to videos, product galleries, a robust online store, and more. These new online resources will help customers find the best bicycle parking solutions for their project.
NEW PRODUCTS
Ultra Space Saver Squared: Dero's Ultra Space Saver Squared builds on its popular predecessor, the original Ultra Space Saver. Both provide vertical bike parking that maximizes space efficiency, but the Squared goes even further:

Sliding Arm System: Adjustable sliding arms make it easy for customers to best utilize their space. It also creates flexibility to make sure spacing follows city requirements as they evolve.
Square Tube Arm: Pipe-cutter resistant squared steel tubing makes the Ultra Space Saver Squared more secure than the original.
Angled Arm (optional): This option provides an extra six inches of aisle space.
Like the original, the Squared is u-lock compatible and accommodates bikes with fenders; features an easy to install, modular system; and can fit in nearly any space. Additional options include: wall-mount, floor-mount, and double-sided.
Cycle Dock™: The Dero Cycle Dock™ is a solid laser cut steel plated bike rack, providing high security that is pleasing to the eye. With unassuming wheel stops at its base, the Cycle Dock™ offers three points of contact for extra bike stability, while the wide-spacing between its two arms decreases handle bar conflicts when parking two bikes.
Type Rider™ Racks: The line of Type Rider™ Racks offers customers the chance to have fun with letters and symbols. These laser cut, hand welded bike racks can be made to spell out a word, brand name, and even hashtag. They are available in a wide array of finishes and colors to create eye-catching bike parking.
Alley Rack™: One of the first Dero racks created in the mid-1990s, the Alley Rack™ has been reincarnated, redesigned, and reengineered to be better than ever. The Alley Rack's™ arm swings a full 180º, offering a variety of locking positions to accommodate for limited space, and its 5/8″ thick steel construction provides a strong deterrent to would-be thieves.
NEW WEBSITE
Dero is proud to introduce customers to a new and improved http://www.dero.com. Beyond the stunning design and images, the website offers new features to make it easier for customers to find the perfect bike parking solutions for their project. For the first time the majority of Dero products are available to purchase via the online store, as long as quantities can be shipped via FedEx. For more complex orders, quantity discounts, quotes and general questions, customers will now have the option to chat with our friendly and informative sales team online.
Customers can also find ideas and inspiration from the new Dero Design Project Guides, starting with Streetscapes, Bike Rooms, Campus Settings, and Park and Rec. All product pages now feature more photos than ever before and how-to videos have started to pop-up, plus the Dero Blog has been redesigned. Be sure to visit the website to keep up-to-date with the newest bike parking resources and Dero news.
ABOUT DERO
Since 1995, Dero has been supplying innovative bike parking and bicycle transit solutions to architects, contractors, municipalities, higher education, and parks and rec. Its commercial bike racks, repair stands and pumps, shelters, and lockers are high quality, thoughtfully designed and secure. Dero also offers the award winning Dero ZAP, an automatic system to track bike commuters. Dero is located in Minneapolis and is proud to support biking locally and nationally.