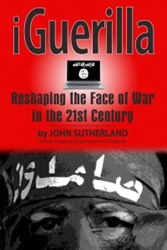 " 'iGuerilla' sheds light on the dark area of Radical Islam that we must come to understand. We must accept that reality,"
Palisades, NY (PRWEB) January 14, 2015
In a world where any group of well armed individuals can go to war against any nation, small or large, the nature of warfare has changed. It is a world of wiki-war. Like the online encyclopedia anyone can get into it, and the participants, the Radical Islamist iGuerillas, have made the Internet their natural milieu and a primary weapon of war which they handle as well as an AK-47.
The iGuerilla has emerged as the new face of war and John Sutherland, a Senior Analyst with the Department of Defense, looks behind the black masks and sees what they are, who they are, and what they want to do, and how they plan to do it, in his forthcoming book "iGuerilla, the New Face of War in the 21st Century."
John Sutherland starts at the beginning, how and from where the iGuerillas came to be, who they are today and the reality of their threat. Using his analytical experience, he reveals how the iGuerilla is rapidly becoming the greatest threat to world stability in the 21st Century. Internet savvy iGuerillas trolling the web can cause massive disruption to the social order and a band of iGuerillas exploiting modern technology can now bring major cities and small countries to their knees. And unburdened by the protocols of formal states, the iGuerillas can create and exploit the nexus between terrorism, crime and rogue states. With unrestricted flexibility, iGuerilla bands are now becoming more powerful than many state armies.
"'iGuerilla' sheds light on the dark area of Radical Islam that we must come to understand. We must accept that reality," said Publisher Donagh Bracken." History Publishing Company is honored to have been selected by the author to bring that insight to the attention of the public."
John Sutherland has firsthand experience in warfare. Before serving as a Senior Analyst with the Department of Defense, he served in the United States Army. A retired Lieutenant Colonel, he served two tours in the middle-east. He attained Airborne, Ranger and Pathfinder status.
iGuerilla, Reshaping the Face of War in the 21st Century (9781940773100) will be published by History Publishing Company, April 25, 2015 and will be available in bookstores nationally and in the United Kingdom. It will also be available as an e-book globally.
Advance review copies will be available to accredited members of the media.
Contact: History Publishing Company, 845-398-8161, djb(at)historypublishingco(dot)com