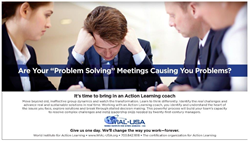 Breakthrough Solutions, Leadership Development and Team Building all at once! Triple value for the dollar.
(PRWEB) January 15, 2015
WIAL, World Institute for Action Learning, introduces a new program that allows organisations to register to be practice sites for coaches in training. These coaches have completed all the required training; just needing to complete their final project for certification.
As part of the certification process each coach-in-training must complete a project consisting of a minimum of two ninety minute Action Learning sessions. To be complete the team much reach a powerful, implementable solution. Organizations that register can take advantage of free action learning sessions while the trainee coaches get the opportunity to complete their final project.
Dr. Bea Carson, Director of International Affiliates, is excited to see Action Learning made available to organisations the world over. Organisations that utilize the WIAL method of Action Learning praise the quality of the solutions, because the problem is solved as a team and is a lasting solution, rather than being a quick Band-Aid solution. Working with a Fortune 100 company, Bea recalls the excitement in the air, as the team reached the light bulb moment that they had been wasting years of resources on quick fixes. Every Action Learning team is amazed at how quickly they start operating as a highly functioning team. Working with a team at a Fortune 500 company, one team member commented after just a few sessions, "I feel closer to this team than folks I've worked with for 30 years."
Action Learning is a powerful problem solving technique that builds teams and leaders while generating breakthrough solutions for your organisation's challenges. The coach is the catalyst that makes the magic happen in an Action Learning team; continually bringing the teams to higher levels of processing.
To register your organization to take advantage of this exciting opportunity to be a test site for Action Learning coaches follow this link - http://www.wial.org/action-learning/register-your-company
About WIAL
The World Institute for Action Learning (WIAL) is a rapidly growing international not-for-profit organisation dedicated to the growth and advancement of WIAL Action Learning in business and all community sectors. It is supported by WIAL affiliates around the world. WIAL is a highly capable global organisation that helps clients rapidly solve urgent and important business challenges. Our clients frequently achieve a substantial Return on Investment (ROI) on their organisation, leadership and team development projects. As the only certifying body for Action Learning, WIAL provides various training & certification programs internationally to support our clients and the global Action Learning community.
World Institute for Action Learning
1425 K Street, NW Suite 350
Washington, DC 20005
P: 703-349-3019
International Email: info(at)wial(dot)org