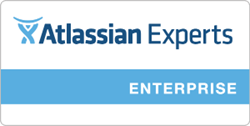 Princeton, NJ (PRWEB) January 14, 2015
Every successful company has an inflection point at which technical skill, industry understanding, and hard work allow them to pull ahead of the pack. For Princeton based Addteq, this moment came in December of 2014, when the company was awarded the prestigious Atlassian Enterprise Badge.
While the company had been posting over 20% growth annually for the past 3 years, Enterprise means joining an elite group recognized by software giant Atlassian as masters of supporting Atlassian tools for huge companies. In order to receive the certification, Addteq performed and submitted an audit of its product expertise, configuration experience, hybrid toolchain integration capabilities, open source knowledge, customer satisfaction, and company ethics.
"We're so proud our expertise and hard work are being recognized by Atlassian", said Sukhbir Dhillon, Founder and President of Addteq. "Although we have many clients that are enterprise scale companies, we're excited to penetrate further into the multinational and super-large scale space. We already count a trillion dollar bank as an extremely satisfied customer. We're ready to add to that list."
Not only is Addteq's Enterprise certification good for the company, it bodes well for New Jersey's tech sector and wider economy. While the rest of the state continues to struggle with unemployment levels that are relatively high compared to the rest of the country, the tech sector has been an engine of growth for the Garden State. Addteq's growing wealth means that it can throw more energy into the types of activities it already does for the local economy, such as sponsoring Hackathons, providing continuing education for local NJ residents, advocating for smart tech policy, and assisting in social programs. Indeed, according to the Bureau of Labor statistics, between 2012 and 2013, New Jersey was the #1 state in the USA for growth in tech jobs openings.
Addteq has current engagements with a variety of large scale investment banks, financial firms, robotics companies, and branches of the US military. However, Enterprise status means that the monthly value of the average new contract for Addteq will increase by roughly 1,000%. It also means that Addteq will increasingly be a go to partner for multinationals that need support for their Atlassian tools.
Atlassian tools are currently used by 40,000 customers worldwide, while the company itself is currently valued at roughly $3.3bn and regularly posts strong growth. More importantly for Addteq, Atlassian boasts a customer list that reads as the who's who of finance, healthcare, IT, insurance, and defense.
With Addteq poised to expand beyond its already tremendous 2013 - 2014 growth, the management team is getting ready for a serious 1st quarter.
"We're adding new staff left and right, it's hard to keep up with the demand for skilled technical workers, but Hackathons like HackRU, HackNJIT, and Dragon Hacks continue to provide us a great group of resources. These kids are already so far ahead of the curve. We hire them part time during college and both provide a boost to New Jersey's economy and ensure a great stream of dedicated and well trained employees. We're able to help students cover costs during education, and help keep them in NJ after they graduate.", added Amanda Deol, Senior Manager of Business Development.
While 20% growth annually might seem good, the revenue streams associated with Enterprise level companies coupled with the increased traffic towards Addteq's door suggest that 20% may function as more of a floor than target for 2015 and beyond.
About Addteq:
Founded in 2006, Addteq specializes in software configuration, build automation and release management. Addteq was founded on the firm belief that automation is essential for successful software releases. Addteq's products are services are centered around this fundamental approach. Learn more at http://www.Addteq.com
Contact:
Brendan Kaplan
brendan(dot)kaplan(at)addteq(dot)com
http://www.addteq.com