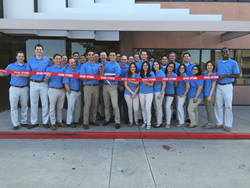 We are excited to be opening the doors of our first location in Arizona. The Scottsdale community has been so gracious in welcoming us into their homes to provide care for their loved ones
Scottsdale, Arizona (PRWEB) January 15, 2015
24Hr HomeCare celebrated the opening of its newest location in Scottsdale, Arizona, on Thursday, January 8th. Its Scottsdale branch will provide Arizona residents with access to high-quality care services that will allow seniors in Phoenix to live full, active, and healthy lifestyles.
"We are excited to be opening the doors of our first location in Arizona," said Ryan Iwamoto, Owner and Co-founder, "The Scottsdale community has been so gracious in welcoming us into their homes to provide care for their loved ones."
The new branch office will provide professional caregiving services via its experienced and compassionate Caregivers, each of whom has been selected through a rigorous interview process. 24Hr HomeCare's dedicated Caregivers can provide anywhere between 30 minutes to 24 hours of homecare a day, helping with meal preparation, transportation provision, medication reminders, personal care, and medication reminders. The Scottsdale location will also offer 24Hr HomeCare's exclusive programs, such as Caregiver Fall Prevention Training and Certification through the Fall Prevention Program of Contra Costa County, Diagnosis-specific Care™, and Whole 24™ Nutrition Planning.
"We are fully committed to providing Scottsdale's seniors with the most personalized care services available nationwide, so that they may continue to live independently, without worrying about sacrificing their comfort and safety," noted Iwamoto.
24Hr HomeCare staff gathered at the branch office at 7201 E Camelback Road, Suite 370, in Scottsdale, on Thursday, January 8th, for the Grand Opening and ribbon-cutting ceremony. The Scottsdale staff is available at all hours of the day and may be reached at (480) 550-8295.