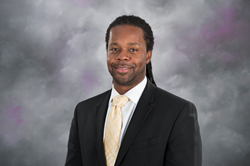 Dr. Land brings with him a wealth of experience leading community groups and he will be a wonderful addition to the college.
Taylorsville, Utah (PRWEB) January 14, 2015
Salt Lake Community College President Deneece G. Huftalin recently chose Dr. Roderic Land to act as Special Assistant to the President.
"In this new position Dr. Land will focus on inclusivity initiatives, leadership succession training and development, K-16 partnerships, and other strategic initiatives as they evolve at the College," said Dr. Huftalin. "Dr. Land brings with him a wealth of experience leading community groups and he will be a wonderful addition to the college."
Dr. Land did all of his postgraduate work at the University of Illinois, where he earned his PhD in Educational Policy, Organization and Leadership. He has committed his "life and work" to higher education. Dr. Land most recently worked in the Salt Lake County Mayor's office as a special projects coordinator. He also teaches in the Education, Culture, and Society program at the University of Utah and serves as an Associate Minister at Calvary Baptist Church.
"I am looking forward to building and enhancing great relationships and working for the College with a spirit of collaboration," said Dr. Land. "My goals include fulfilling the college's mission toward providing quality higher education and lifelong learning to people of diverse cultures, abilities and ages, and to serve the needs of the community broadly defined."
Dr. Land also serves as the state representative on the national board of the ACLU and he is chair elect for the Coalition of Minorities Advisory Council for the Utah State Office of Education. As a professor his teachings have included sociology of education, educational policy, hip-hop and social justice education, leadership development and ethnic studies. He insists "that race and racism, coupled with other historical, oppressive realities are yet concluded battles in the 21st century and are largely important to the new millennium scholar." His "ultimate goal" is nothing short of a global impact that will "resituate the perception of inclusivity and equity in education and society at large."
Salt Lake Community College is an accredited, student-focused, urban college meeting the diverse needs of the Salt Lake community. Home to more than 60,000 students each year, the College is Utah's leading provider of workforce development programs. SLCC is also the largest supplier of transfer students to Utah's four-year institutions and a perennial Top 10 college nationally for total associate degrees awarded. The College is the sole provider of applied technology courses in the Salt Lake area, with multiple locations, an eCampus, and nearly 1,000 continuing education sites located throughout the Salt Lake Valley. Personal attention from an excellent faculty is paramount at the College, which maintains an average class size of 20.