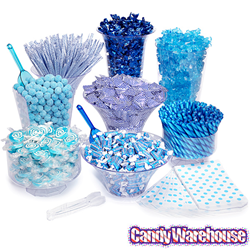 "The important thing is to create something your guests will love."
Los Angeles, CA (PRWEB) January 14, 2015
It's a dessert table. It's a decorative display. It's called a "candy buffet," and it's quickly becoming the piece de resistance for ambitious party planners.
"It's all about that moment when your guests walk in the door and see the table covered in this beautiful display of candy. They think, 'Okay. I'm glad I came," says Dr. Evans Boney, Director of Marketing at CandyWarehouse.com, a leading online retailer who's making the candy buffet easier than ever for would-be hosts and hostesses.
Last year they introduced an all-inclusive pink candy buffet kit that came with all of the bowls, scoops, bags, and candy their customers would need to set it up just like the pictures, only in their home or venue instead of the CandyWarehouse photo studio. This year, the big news is their second buffet kit, which boasts shades of blue ranging from celeste to sapphire.
"We chose blue because we wanted a color that would suit a variety of party themes, from a boy's Bar Mitzvah, to a girl's Frozen princess party. Our pink buffet was very well received, and people wanted another version for different events."
For shoppers eager to create their own buffet, the online retailer offers thousands of items in every color imaginable, but what makes the kit so appealing for their customers is the reassurance that it will come together the same way every time, with all of the right shapes, sizes, and shades to give the finished product a playful flair, while maintaining a congruity that looks deliberate.
"We wanted to make something that our customers could take out of the box and set up themselves in a few minutes. There are about 19 items included, from the candy items themselves to the bowls, scoops, tongs, and treat bags for dishing everything out. Some of our customers prefer picking out the items for their buffets by themselves, and we definitely encourage that. We just wanted to make it easy for those who don't want to go through the trial and error of testing out different sizes, shapes, and color schemes to make it look professional."
Whether their customers choose to piece together their own unique buffets, or keep things simple with the pre-arranged kit, Dr. Boney says the important thing is to create something your guests will love.