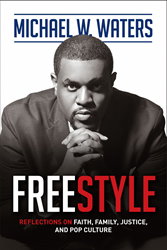 I view life through the lens of Christian hope. I believe humankind's purpose is to inspire and manifest hope each day: hope in a newer and brighter day in the face of darkness.
Nashville, TN (PRWEB) January 15, 2015
Fresh Air Books, an imprint of Upper Room Books, a nonprofit Christian ministry in Nashville, TN, is pleased to announce that Freestyle: Reflections on Family, Faith, Justice, and Pop Culture by Michael W. Waters, recently won a silver award in the Christian Living category of the 2015 Illumination Book Awards.
This is the third award Freestyle has won. In November it was named a finalist in two categories of the 2014 USA Best Book Awards: Social Change and Christianity. Michael Waters is founding pastor of Joy Tabernacle AME Church in Dallas, TX, and a frequent blogger for Huffington Post. He is known for his powerful and inspiring preaching style, insightful commentary on current events, work as a community organizer in the Dallas area, and expertise on hip-hop culture.
Freestyle provides an honest, edgy but hope-filled perspective "on issues that impact our communities, families, and the future of our country," according to Romal Tune, a bestselling Christian author. "Through Waters' political critique you hear the voice of a street prophet," Tune says. "Through his analysis of hip-hop, you hear the voice of a cultural connoisseur. Through his reflections as a father, you hear the voice of a loving parent."
Fresh Air Books are designed for spiritually curious people who are interested in the relevance of faith in our culture. For more information about Freestyle, visit Michael Waters' book Freestyle wins Illumination award. For more information about Michael Waters, visit MichaelWWaters.com.
The Illumination Awards celebrate and recognize the exemplary books produced by the ever-growing Christian branch of publishing and bookselling. A vast array of new titles is released from this thriving sector each year, bringing inspiration and answers to millions of readers exploring their faith.