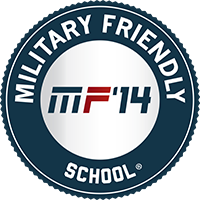 Pinnacle College is committed to supporting student Veterans and their families as they pursue education and new careers in the music industry." - Kris Pedretti
Los Angeles, CA (PRWEB) January 15, 2015
On September 23rd 2014, the Military Friendly® Schools designation list was released by Victory Media, the premier and most trusted entity regarding post Military transition to Civilian success. This is the sixth year Victory Media has published this list and designations. Designations are awarded to the top 15 percent of Universities, Colleges and Trade Schools that are doing the most to embrace America's Military Service Members and provide dedicated resources to help ensure success.
"We are proud to be designated a Military Friendly School for two consecutive years. Pinnacle College is committed to supporting student Veterans and their families as they pursue education and new careers in the music industry." - Kris Pedretti, Pinnacle College Chief Operating Officer.
To ensure commitment and success Pinnacle College has adopted the President's Principles of Excellence and the 8 Keys to Veterans' Success. For more information about Pinnacle College's dedication and support of our military visit Pinnacle College's Veterans Page.
About Military Friendly® Schools
The Military Friendly® Schools designation process includes extensive research and a data-driven survey of schools nationwide approved for Post-9/11 GI Bill funding. The school survey, methodology, criteria and weightings were developed with the assistance of an Academic Advisory Board comprised of educators from schools across the country. The survey is administered for free and is open to all schools who wish to participate. The survey is now open year-round. Criteria for consideration can be found on our website: http://www.militaryfriendly.com.
About Victory Media
A Service-Disabled Veteran-Owned Small Business since 2001, Victory Media has worked tirelessly to establish our Military Friendly® designation as a trusted, free resource to assist service members and their families seeking civilian success. Our assessment survey process is now open year-round and delivered to schools as a complimentary service, along with rights for qualifying schools to use the basic Military Friendly® Schools logo and to receive a free, basic listing in our annual list publication and in our online Schools Matchmaker tool.