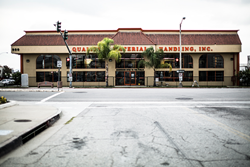 I can't express how proud I am of what my family and staff have accomplished as a working team.
Azusa, CA (PRWEB) January 15, 2015
Celebrating its 24th year in business, QMH Quality Material Handling, Inc. announced that it had exceeded its 2014 sales goal of 32% growth, reaching record-breaking gross sales resulting in a 50% growth rate. The company has set its sights on a goal of 37% growth in sales for 2015 and is already on pace to reach that goal based off of week one in 2015. QMH is expanding, and will be adding a second production-fabrication facility near its Azusa headquarters.
"I can't express how proud I am of what my family and staff have accomplished as a working team," said QMH's CEO and president, Hector Pinto. "I began selling fruit on the streets of the poverty stricken country of Honduras, moved to the States at 14, and now, the company my wife Brenda (QMH's CFO) and I started in a small room in our La Verne apartment with $129,000, is now a multi-million dollar company with 45 valued employees." Pinto learned the industry as an employee, age 23, at another material handling company.
As the company has grown, Pinto, long known throughout the community for his exceptional humor, enthusiasm and contagious energy, has continued to provide personal service to his many repeat-customers. He attributes this mission as one of the main reasons for their continuing growth. "Like many businesses, we've had challenges," Pinto explained. "The recession was tough, but we worked side-by-side with our staff and pushed through, working harder to provide our past and new customers with time-saving, cost-effective products, services, and solutions."
QMH sells, fabricates, installs and services material handling products. Leading products include yard ramps, industrial shelving, pallet racking, warehouse storage and more. Its loyal clients include: Southern California Edison, Harley Davidson, Warner Bros., Audi, Mitsubishi, Porsche, Boeing, HAAS Automation, AIDS Project L.A., Toms Shoes and Verizon. Regions QMH currently provides full servicing and products for are: Southern California, Merced, Salinas, with plans to expand further into Central and Northern California. Additionally, QMH distributes its impressive product line out of state.
The couple's daughter, Julia Pinto, who serves as the company COO, shared her view of the secret to her father's success, "He founded his business on relationships. When he called his first customer, to inform him of his new business venture, the customer responded, 'Hector, as long as I can deal with you personally, I don't care what company you are working for.'" Today, any customer with a personal question can still speak directly with the company's CEO.
The Pintos and QMH were recently named, by the Los Angeles Business Journal, as a finalist in the 2015 Latino Business Awards, which annually honors the "top Latino-owned companies that drive economic growth in our region and are setting the example of excellence." "I'm very proud and honored to have made the LA Business Journal's Top 100 women-owned and minority-owned businesses for the second consecutive year," said CFO Brenda Pinto. Active in community service, the Pintos are long-term members of Faith Community and Reliance Community Church. QMH and the Pintos also support Corey's Kitchen Food Bank and the Apostolic Church Deaf Ministry.
xxx
About QMH Quality Material Handling, Inc.
QMH is a leader in material handling equipment distribution and services. The company's focus is providing a one stop shop for their customers through expertise and quality delivery from an array of integrated material handling system products. Moreover, QMH has ongoing knowledge base of 24 years of experience coupled with leading edge technology and supportive solutions. QMH is committed to stellar customer service and building long-term customer-centric relationships. Founded by the Pintos in 1991, as an intimate start-up, this family-owned corporation, headquartered in Azusa, has one mission: to be known as the single source for customers' material handling needs and services, delivered with distinguished personal care and unequaled expertise. Learn more at http://www.qmhinc.com and http://yardrampsla.com/