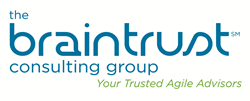 We are passionate about Agile and it shows through in every class that we teach. Our unique approach to training focuses on hands-on-exercises and utilizes the latest brain science techniques from the field of Accelerated Learning.
(PRWEB) January 15, 2015
The Braintrust Consulting Group, a worldwide leader in Agile, will host a Certified Scrum Developer (CSD)-Track Two training class in San Francisco the week of February 16-20, 2015. San Francisco is among one of the new cities added to the scrum training schedule for 2015.
The Braintrust Consulting Group has bundled a series of classes including Scrum Essentials, Agile Engineering Practices, and User Story Workshop into an in-depth five-day training to earn Scrum Developer certification, as outlined by The Scrum Alliance.
Scrum, the leading Agile development framework, is a simple yet incredibly powerful set of principles and practices that help teams deliver products in short cycles, enabling fast feedback, continual improvement, and rapid adaptation to change.
This class is ideal for software architects, developers, development managers and systems analysts who have an understanding of Scrum principles and specialized Agile engineering skills. The CSD Track Two is intended for professional software developers who are on a Scrum team and want to understand how Scrum and agile engineering practices are applied. It's also ideal for candidates who already have their Certified ScrumMaster (CSM) certification or software architects and development managers.
Members of the Project Management Institute will earn 35 Professional Development Units (PDUs) toward maintaining their existing credentials by attending this class. For additional details about the Certified Scrum Developer class, please visit: http://braintrustgroup.com/class/certified-scrum-developer-csd-track-two-san-francisco-ca-16-20-february-2015/.
The Braintrust Consulting Group chose San Francisco because it is well known for its established high-tech industry. Braintrust President, Brian Rabon said, "Our decision to host classes in San Francisco is based on the city's commitment to job growth in tech. San Francisco boasts a strong and talented ecosystem of technology professionals and we are proud to participate in their technology industry by bringing our world-class training to San Francisco."
Erick Fleming, CSM, JCD, MCT, MSCD, will instruct this course. Fleming is a certified .NET and Java Developer with over 17 years of programming and training experience and holds a Bachelor's Degree in Management Information Systems from the University of South Florida. He has spent most of his career training and consulting with organizations on technologies ranging from .NET and Java to Linux and other open source tools, and specializes in cloud-based web solutions.
Attendees are encouraged to sign up in advance. Individual attendee, early bird, and group pricing are available. To learn more about the Agile approach to training and additional upcoming classes across the country, please visit: http://braintrustgroup.com/classes/.
###
About The Braintrust Consulting Group
With offices in Birmingham, Alabama, Los Angeles, California, and Salt Lake City, Utah, The Braintrust Consulting Group is a worldwide leader in Agile transformations. Through practical, hands-on training and enterprise and team coaching, we help our clients learn, plan, and implement Agile processes, such as Scrum and Kanban. Our goal is to teach our clients how to increase predictability of delivery, decrease time-to-market, and improve overall client satisfaction.