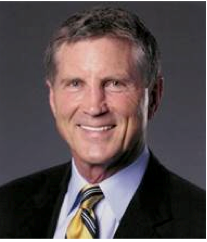 Bill's experiences in overcoming adversity will resonate with the Nashville business leaders attending our event
Nashville, TN (PRWEB) January 14, 2015
Accelerent Nashville, a national business development platform, is pleased to announce Bill Curry as the speaker at their Signature Breakfast Event January 23, 2015.
An accomplished speaker with a rich history of experiences to share, Bill Curry has been mesmerizing audiences for more than 40 years. With a commanding, passionate and funny delivery, Bill really connects with his audience, delivering an old-school message with a contemporary flair.
Bill Curry was a two-time Super Bowl Champion, and played in two NFL Pro Bowls. Following his successful playing career, Bill advanced to coaching and was named National Coach of the Year at Alabama and become the first head football coach ever at Georgia State. As an ESPN commentator, he entertained and educated millions across the world.
Throughout his career, he faced adversities but always found a way to turn those lemons into lemonade. Bill's NFL career was cut short with a catastrophic knee injury, and he suffered a most humiliating loss in Super Bowl III while playing with the Baltimore Colts. He has seen his share of tragic lows and speaks convincingly about perseverance, discipline, and toughness.
"I look forward to talking with the business leaders in Nashville," says Bill Curry. "I am sure my experiences of facing adversity and coming out on top resonate with business leaders making tough decisions and facing changing economic conditions every year."
Bill played for some of the most famous coaches of all-time, including Vince Lombardi and Don Shula, and was proud to call Johnny Unitas, Bart Starr and Willie Davis teammates. Studying the lives of his personal heroes brings authenticity to his message of leadership and success.
Bill's experiences in overcoming great adversity will resonate with the Nashville business leaders attending our event," says Steve Minucci, Regional President of Accelerent Nashville. "He has worked with some of the best leaders in our sports history and has a wealth of knowledge to share with us."
The breakfast will be at the sixth most visited arena in the U.S., Bridgestone Arena, and runs from 7:00 A.M. to 9:00 A.M. This gives attendees plenty of time to meet an invitation-only group of local business leaders. To take full advantage of this unique event, Partners are encouraged to bring guests including existing clients, team members and prospects. Excellent food will be provided by Levy Restaurants, a company known for its passion in serving great tasting food in large venues.
Accelerent is a business development platform designed for companies that serve the middle market business community. Each Partner (client) is exclusive to its business category or industry and Accelerent provides services to assist its Partners with revenue growth and market exposure using the company's proprietary business development platform.
For more information visit http://www.accelerent.com
The Company operates in Nashville, Washington, D.C., Baltimore, Kansas City, Phoenix and Indianapolis and its Partner base includes many well-known brands across 60+ industries. Accelerent helps its Partners get access to decision makers, faster and warmer, and that leads to more business and increased brand awareness.