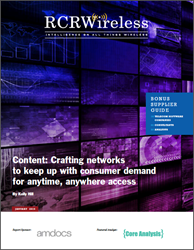 Consumer demand for mobile content is driving enormous change and growth in the underlying network architectures - Kelly Hill, RCR Wireless News
Austin, Texas (PRWEB) January 20, 2015
Consumers expect to be able to access their content from any device, at any time. This evolution is driving changes in how content is stored, optimized and delivered across both wireless and wireline networks. In this report, entitled, 'Content: Crafting Networks to Keep Up with Consumer Demand for Anytime, Anywhere Access,' you will learn about new billing relationships and business models being explored in multi-screen media, and how wireless is playing a key role.
"The implications of video growth would be difficult to overstate," said network equipment giant Cisco in its most recent Visual Networking Index report.
This report looks at trends in the content delivery market, with a specific focus on video and mobile. Some of these trends include changing relationships among content and access providers, the proliferation of advanced mobile devices and new delivery platforms such as the connected car, and the influence of encryption on optimization methods.
Download this report to learn:

Consumer usage trends affecting content delivery, especially mobile video
Major technology shifts impacting content and access providers
Future technologies being explored for content delivery, including Wi-Fi features and eMBMS/LTE broadcast
Bonus: Supplier guide for telecom software companies, consultants and analysts
Watch the complimentary editorial webinar featuring:

Kelly Hill, Technology Reporter, RCR Wireless News
Patrick Lopez, CEO and founder, Core Analysis
Sudeep Bose, Segment Strategy & Business Development Manager, Video Test Solutions, Tektronix
Matt Goldberg, Senior Director, Service Provider Solutions, SevOne
"Consumer demand for mobile content is driving enormous change in the underlying network architectures," said RCR Wireless News Technology Reporter Kelly Hill. "Software-defined networking, cloud access and faster networks are speeding up the shift toward a content-anywhere world. Operators are working on new content delivery methods, such as LTE broadcast, and meanwhile you also have connected cars joining the network and advances in Wi-Fi. All of these things are happening simultaneously, which means there is a lot of juggling as operators try to figure out how to monetize the content flowing across their networks."
RCR garnered insight from experts across the content delivery ecosystem on the state of the industry, from content delivery network providers, data center operators, and companies that are developing and testing both new and refined content delivery techniques. The report explores a broad range of developments and trends in customer usage as well as new and existing technologies, and the partnerships that are changing the question of who owns the customer.
"Any user can access any content – that doesn't mean there aren't opportunities for symbiotic relations with content providers and operators," said Cam Cullen, VP of global marketing at Procera Networks.
Click here to download the full feature report.
About RCR Wireless News
Since 1982, RCR Wireless News has been providing wireless and mobile industry news, insights, and analysis to industry and enterprise professionals, decision makers, policy makers, analysts and investors. Our mission is to connect, globally and locally, mobile technology professionals and companies online, in person, and now on video. Our dedication to editorial excellence coupled with one of the industry's most comprehensive industry databases and digital networks leads readers and advertisers to consistently choose RCR Wireless News over other industry publications. http://www.rcrwireless.com