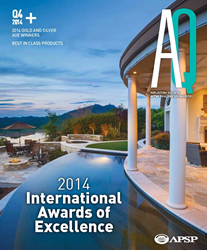 Alexandria, VA (PRWEB) January 13, 2015
The Association of Pool & Spa Professionals (APSP) has announced its quarterly magazine, AQ Magazine, has won the Folio: Ozzie Design Award for best overall design—less than six issues—in the Association/Non-Profit (Business-to-Business) category. The Folio annual awards program recognizes the very best in editorial and design.
FOLIO:'s Eddie and Ozzie Awards program is the largest and most inclusive awards program of its kind in the publication industry. Over 300 judges narrowed the more than 2,800 entries received this year to a list of roughly 800 finalists.
"We are very excited to receive this recognition for AQ Magazine, as it will continue to strengthen our long term relationships with industry professionals and build confidence with advertisers," said APSP President and CEO Rich Gottwald. "AQ Magazine's theme is 'reflecting success in the pool and spa industry,' and this award endorses APSP's commitment to delivering quality member communications to the most successful audience in the pool and spa industry—our APSP members."
"As APSP's publishing partner for AQ Magazine, we are proud to receive this prestigious designation from one of the most important and influential awards competitions in magazine publishing," said Joe Stella, VP of Business Development for GLC, a print and digital content marketing agency. "It validates all of the hard work APSP and our creative team puts into each issue. It is truly a one-of-a-kind publication for an exclusive and exceptional audience."
To view the online version of AQ Magazine, visit http://www.AQtheMagazine.com. For advertising opportunities, view the media kit and contact Tracey Aaron.
About AQ Magazine
AQ Magazine is the official publication of The Association of Pool & Spa Professionals (APSP). AQ provides exclusive access to a highly experienced and trained audience of professionals through a multiplatform presence that includes print and digital editions, e-newsletters, AQ Ad Wave and AQtheMagazine.com. More than 9,000 decision makers (total audience with pass along is 28,800) in the pool, spa and hot tub industry turn to AQ Magazine for news and information, how-to applications, case studies and regulatory information.
About APSP
The Association of Pool & Spa Professionals (APSP) is the world's oldest and largest association representing swimming pool, hot tub, and spa manufacturers, distributors, manufacturers' agents, designers, builders, installers, suppliers, retailers, and service professionals. Dedicated to the growth and development of its members' businesses and to promoting the enjoyment and safety of pools and spas, APSP offers a range of services, from professional development to advancing key legislation and regulation at the federal and local levels, to consumer outreach and public safety. APSP is the only industry organization recognized by the American National Standards Institute to develop and promote national standards for pools, hot tubs, and spas. For more information, visit APSP.org.
Connect with APSP on Twitter, Facebook, YouTube and AQtheMagazine.com.
About the Awards
The Eddie and Ozzie Awards are presented annually by FOLIO: magazine to recognize the best editorial and design work in consumer, non-profit, business-to-business, and custom media. As the largest awards competition in the magazine industry, the Eddie and Ozzie Awards typically capture over 2,000 entries, with about 140 awards being presented annually.