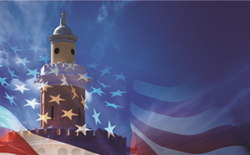 The staff at Stetson helped me make the transition from military to student and then later to attorney.
GULFPORT, Fla. (PRWEB) January 13, 2015
Stetson University College of Law has been named a Military Friendly® School by Victory Media for 2015. The Military Friendly® Schools designation, now in its sixth year, is awarded to 16 percent of colleges, universities and trade schools in the country that are doing the most to help military students to succeed in the classroom and after graduation.
Stetson University, with campuses in DeLand, Celebration and Tampa Bay, has been recognized as a "Military Friendly School" for the past three years in G.I. Jobs. Military Times named Stetson's School of Business Administration a "Best for Vets: Business Schools" in its annual 2014 rankings.
"The staff at Stetson helped me make the transition from military to student and then later to attorney," said Trista Miller JD '11, assistant director of clinical education and Veteran's Law Institute Pro Bono Initiative supervisor. "The faculty, staff, and students were supportive and the academic rigor provided challenge and purpose."
Participating in the G.I. Bill's Yellow Ribbon Program helps active military and veteran students offset the cost of attending Stetson.
"Veterans have shown a commitment to serving others," said Javier Centonzio JD '12, LL.M. Elder Law '14. "Like most veterans, when I left the military I was looking for a way to continue helping others. Scholarships and the G.I. Bill helped me attend Stetson, where I was able to develop the skills necessary to become a veterans advocate and an elder law attorney."
Stetson dedicated its Veterans Law Institute in 2012, providing services to current and prospective students who are active or retired service members as well as free legal help to veterans with VA disability benefit appeals through its Veterans Advocacy Clinic.
Through its Veterans Pro Bono Initiative, Stetson helps provide legal services to the growing population of military members, veterans and their families in the Tampa Bay area.
Recently, Stetson University College of Law and the University of South Florida joined forces to help Florida veterans through supportive clinical services, collaborative student training and joint research.
For more information about the methodology used in making the Military Friendly® Schools list, visit
http://militaryfriendly.com/methodology.
For more information about resources for student veterans and members of the military at Stetson University College of Law, visit http://www.stetson.edu/law/admissions/veterans/index.php.
To learn more about veterans services at Stetson University, visit http://www.stetson.edu/other/veterans-services/.
###
About Stetson University College of Law
Stetson University College of Law, Florida's first law school, has prepared lawyers and leaders since 1900. Today, Stetson leads the nation in blending legal doctrine with practical training, evidenced by its top-ranked programs in advocacy and legal writing. Through our academically rigorous curriculum and commitment to social responsibility, Stetson lawyers are ethical advocates ready to succeed in the legal profession.
About Military Friendly®Schools
The Military Friendly® Schools designation process includes extensive research and a data-driven survey of schools nationwide approved for Post-9/11 GI Bill funding. The
school survey, methodology, criteria and weightings are developed with the assistance of an independent Academic Advisory Board comprised of educators from schools across the country. The survey is administered for free and open to all post-secondary schools who wish to participate. Criteria for consideration can be found on our website, http://www.militaryfriendly.com, and a complete list of schools can be found through our Schools Matchmaker tool on http://www.gijobs.com.
About Victory Media
Victory Media is a service-disabled, veteran-owned business serving the military community since 2001. Our data-driven lists are published in G.I. Jobs®, Military Spouse, and Vetrepreneur® media channels, republished in periodicals such as USA Today, Wall Street Journal, Fortune, Bloomberg BW, and frequently cited on national TV by NBC, ABC, CBS, CNN, CNBC, Fox News and others.