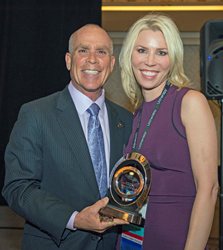 San Diego, Calif. (PRWEB) January 14, 2015
Melanie Palm, M.D., MBA, was honored for her numerous contributions to the American Society for Dermatologic Surgery with the ASDS Award for Outstanding Service.
The annual award recognizes young, emerging leaders of ASDS who have demonstrated commitment to the Society's growth and success. Palm received the honor during the recent 2014 ASDS Annual Meeting in San Diego, Calif. Nominees must have been ASDS members for fewer than 10 years and have volunteered their time and efforts in multiple capacities for a minimum of three consecutive years.
Palm – director and owner of Art of Skin MD, in Solana Beach, Calif. – has been active in ASDS since beginning her medical residency, said 2013-14 ASDS President Mitchel P. Goldman, M.D., who presented the award.
She participated as a mentee of the Society's Future Leaders Network in its inaugural year. Her project – the ASDS DermSurg Fellowship Finder database to help dermatology residents locate prospective fellowships – now is featured on the ASDS website.
She also is a member or former member of several ASDS work groups, including the Product and Service Development Work Group, which she chairs.
Palm has been a faculty lecturer and moderator at several ASDS Annual Meetings and a faculty member for a procedural course. She contributes to Dermatologic Surgery, the official journal of ASDS, and has participated in complimentary ASDS skin cancer screenings. She has won both the ASDS Review Article Incentive Program and the ASDS Young Investigators Writing Competition.
"Everything she does is for the benefit of the greater good, whether it's fellow dermatologic surgeons, primary care doctors, her patients, the community or her staff," said Ashley Smith, M.D., who completed her residency with Palm and served as Palm's chief resident. "It's exciting to know that every single dermatologist will continue to grow because of her contributions."
Palm trained at Goldman's practice, and he knows her now not just as a former student but as a colleague and friend. "As a fellow, she was outstanding in every way," he said, adding that they continue to co-author chapters of dermatology textbooks together. "She is already a leader and role model and will continue to excel."
About ASDS
The American Society for Dermatologic Surgery (ASDS) is the largest specialty organization exclusively representing dermatologic surgeons who have unique training and experience to treat the health, function and beauty of your skin. ASDS members are pioneers in the field. Many are involved in the clinical studies that bring popular treatments to revitalize skin and fill and diminish wrinkles to the forefront. Their work has helped create and enhance many of the devices that remove blemishes, hair and fat, and tighten skin. Dermatologic surgeons also are experts in skin cancer prevention, detection and treatment. As the incidence of skin cancer rises, dermatologic surgeons are committed to taking steps to minimize the life-threatening effects of this disease. For more information, visit asds.net.
Follow us:
Website: http://www.asds.net
Follow ASDS on Twitter: http://www.twitter.com/ASDSSkinExperts
Become a fan of ASDS on Facebook: https://www.facebook.com/ASDSSkinExperts
Locate a dermatologic surgeon in your area: http://www.asds.net/findadermatologist.aspx
Contact:
Beth Bales
Communications Manager
American Society for Dermatologic Surgery
847-956-9143