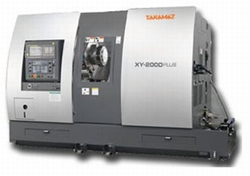 Uniweld, providing over 65 years of quality.
Fort Lauderdale, Florida (PRWEB) January 15, 2015
Since its inception in 1949, Uniweld Products, Inc. has been producing high quality tools and products as a leading U.S based manufacturer for the welding, HVAC/R, plumbing, & automotive industries. In 2014, Uniweld celebrated its 65th year of manufacturing the quality products that the company is known for producing.
Moving into 2015, Uniweld's factory floor has expanded with the addition of new Takamaz production machines and company staff. A peek at the direction of this company's 66th year in business looks promising and with this continued growth, the opportunity to provide more U.S jobs for South Florida residents.
Furthermore, Uniweld has increased factory production through the implementation of new shop floor automation procedures. Uniweld's latest shop floor upgrades increase production, efficiency, and accuracy throughout the factory by permitting more control of production machines through network connectivity.