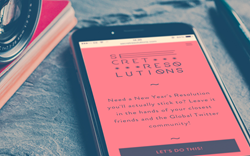 Having a friend secretly set your New Year's resolution and then finding out what it is, at the same time as the rest of the world...it's a lot of fun!
London (PRWEB UK) 14 January 2015
The latest project from Clubhouse Studios puts a spin on New Year's resolutions.
Secret Resolutions allows groups of friends and colleagues to come together to secretly set each other's 2015 resolutions. Once a group is created, the engine automatically, and secretly, assigns each person a friend to pick a light-hearted resolution for. As soon as everyone has chosen a good intention for their friend, all is revealed to the world (and them) across Twitter with automated Tweets.
It's like Secret Santa, but for good intentions instead of novelty tat.
Watch the Secret Resolutions Film
––––––
Clubhouse is a creative studio with a difference. An agile, multi-disciplined collective of thinkers and makers who craft the digital experiences people talk about.
With the belief that small teams create big ideas Clubhouse's clients include adidas, Stella McCartney, Google, Ben & Jerry's, Dishoom and Unilever.
The Secret Resolutions project is the latest in Clubhouse's commitment to creating it's own digital products. This approach started when the studio released Equilibrium (an innovative iOS game) back in 2013. Since then the studio has continued to invest in internal projects and products to ensure that every member of the team is freely thinking and constantly learning without constraints.
Projects like Secret Resolutions are not only a lot of fun to create but they also ensure Clubhouse is continually pushing at the forefront of digital.