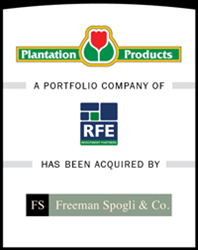 Charlotte, NC (PRWEB) January 13, 2015
BlackArch Partners is pleased to announce the sale of Plantation Products ("Plantation"), a portfolio company of RFE Investment Partners, to Freeman Spogli & Co.
Plantation Products distributes over 3,500 SKUs to a network of over 70,000 retail locations across the home center, mass merchant, farm and independent, dollar store and distributor/co‐op channels within the consumer lawn and garden category. Plantation's portfolio of brands, including Ferry‐Morse, American Seed, Livingston Seed, McKenzie, NK Lawn & Garden and Jiffy, are among the most recognizable in the seed packet and seed starting industry. Plantation also provides many of its retail customers with best‐in‐class category management services including SKU selection, packaging and displays, in‐store merchandising services and logistical solutions.
BlackArch was retained by Plantation's management team and financial sponsor, RFE, to serve as its exclusive financial adviser on the transaction. This transaction sits squarely within BlackArch's Consumer Products industry vertical, a sector of deep expertise with a track record of successful outcomes.
"The BlackArch team was exceptional from top-to-bottom," commented Michael Pietrasiewicz, CEO of Plantation. "They delivered an extraordinary level of value-add throughout the entire transaction, starting with heavy partner-led engagement and complemented by an impressive overall team. Their deep level of consumer industry expertise helped us articulate Plantation's critical differentiators, target the right buyers and ultimately select the best partner for the Company. We are truly excited about our new partner and next phase of growth and look forward to working with BlackArch again in the future."
About Plantation Products
Plantation Products, based in Norton, Massachusetts, is the leading provider of seed and seed starting products to the North American consumer lawn and garden industry. Plantation's 3,500+ SKUs are available at leading retailers throughout the U.S. and Canada.
About RFE Investment Partners
RFE Investment Partners (based in New Canaan, CT), founded in 1979, is a leading private equity firm that has consistently focused its investment activities on companies operating in the lower middle market (less than $100 million of entity value). Currently investing from its eighth committed fund, RFE Investment Partners VIII, RFE seeks to partner with management teams of niche market leading manufacturing, business service and health care service companies to support accelerated growth.
About BlackArch Partners
BlackArch Partners is a leading middle-market investment bank offering a full spectrum of advisory services to financial sponsors, private companies and diversified corporations. BlackArch addresses the needs of owner-operators, founders and shareholders of private companies with specialized services that include M&A advisory, strategic advisory and private capital solutions. Headquartered in Charlotte, NC, with offices in Houston, TX, BlackArch features a total of 12 industry-focused practices that cover all sectors of interest to middle-market investors. BlackArch professionals have closed over 300 transactions in 16 countries on four continents. Please visit our website, http://www.blackarchpartners.com, for more details.
Securities offered through BlackArch Securities LLC. Member FINRA and SIPC. Testimonials may not be representative of the experience of all clients. Testimonials are not a guarantee of future performance or success.