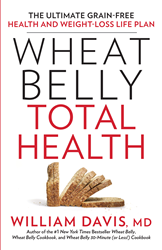 Milwaukee, WI (PRWEB) January 14, 2015
Dr. William Davis, a world-renowned cardiologist and best-selling author, continues to spread the gospel of the grain-free lifestyle with his new book, "Wheat Belly Total Health."
The new book about the grain-free lifestyle is a follow-up to the groundbreaking "Wheat Belly," published in 2011, that broke the news to the world that eliminating wheat from our diets can prevent fat storage, shrink unsightly bulges and reverse myriad health problems. Serious wheat-based problems can include disease associated with excessive fat, such as diabetes, Crohn's disease and other autoimmune and inflammatory conditions.
"Every day, over 200 million Americans consume food products made of wheat, and about half experience some form of adverse health effect," says Dr. Davis, who has also published a "Wheat Belly Cookbook," which features 150 great tasting wheat-free recipes to help readers lose weight and beat disease.
"The 'Wheat Belly' series is all in an effort to emphasize the importance of a grain-free lifestyle. More to the point with my latest, I want Americans to know that it's not just heavily processed wheat products that are unhealthy, but also any grain-based food. Grains and wheat are grass-based foods that are suited for ruminants like cows, goats, deer and the like, which have different teeth and stomachs."
If "Wheat Belly" sounded the alarm on wheat, then "Wheat Belly Total Health" comprehensively addresses all of the steps to completely do away with all grains, from high-yield semi-dwarf wheat products to genetically-modified herbicide-resistant corn, especially for readers who've developed diabetes or other problems.
"We don't expect alcoholics to completely change their ways within a few weeks; we know it's a long-term process," Dr. Davis says. "We've been indoctrinated in wheat for as long as we can remember. Banishing wheat and grains for good takes a sustained effort."
" … In his long-awaited 2014 follow-up book WHEAT BELLY TOTAL HEALTH, Dr. Davis applauds those who were able to successfully remove the wheat from their diet, but now encourages them to extend that dietary abstention to ALL grains and even most carbohydrates that are wreaking the most havoc on their health …." writes top Amazon reviewer Livin' La Vida Low-Carb Man, who gave the book five stars.
About Dr. William Davis
William Davis, MD is a cardiologist and author of several books that have sold more than 2 million copies, including the No.1 New York Times bestseller "Wheat Belly." He has appeared on major national media including the Dr. Oz Show, CBS This Morning, National Public Radio, and Live! with Kelly. Davis has built a substantial online presence on his Wheat Belly Blog, (http://www.wheatbellyblog.com), with more than 300,000 visits per month. He is a graduate of the St. Louis University School of Medicine, with training in internal medicine and cardiovascular disease at the Ohio State University Hospitals. At Case Western Reserve University Hospitals, he served as Director of the Cardiovascular Fellowship and Assistant Professor of Medicine.