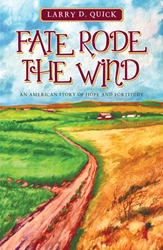 Now matter how dark of a shadow can be cast on life, a loving family can brighten any dark time.
CHICAGO (PRWEB) January 14, 2015
"How many families struggled through the effects of the Great Depression, working themselves to the bone on the slim chance that they might make end's meet?" Larry D. Quick asked himself this question as he began working on his recently released period novel, "Fate Rode the Wind."
In it, as the depression is winding to a close, Milburn Quinn manages to obtain a mortgage to purchase a hardscrabble farm. The young, family man moves his wife and four children into the primitive farmhouse that has stood vacant on the property for years, offering them little more than shelter.
Just as he is planning to make improvements on the house for his family, World War II begins when Japan attacks Pearl Harbor and Germany declares war on the U.S.
"The setting is a small mid-western community located about as far away from the war as any could be," Quick said. "However, it still spreads a dark cloud over its citizens as their young men are called up for the draft."
The addition of foreign enemies is Milburn's omen of hard times to come as a domestic antagonist is introduced to the family—a domesticated one, in fact. The would-be farmer becomes challenged to finish his plans over his wife's fear of added debt. Although he is under pressure to economize, he nevertheless decides to buy a pony.
Believing the animal would keep his restless older children grounded and occupied, the pony becomes a source of conflict between Milburn and his wife, which ripples through the entire family. Causing divisions and heartbreak, the pony also becomes a cherished friend for their daughter. "Fate Rode the Wind" will have readers wondering if the bonds of family can really brighten any dark cloud.
"Fate Rode the Wind"
By Larry D. Quick
ISBN: 978-1-4917-3226-7
Available in softcover, hardcover, e-book
Available on Amazon, Barnes & Noble and iUniverse
About the author
Larry D. Quick served as department chairman and visual arts teacher of the Crystal Lake Central High School art department for 36 years. He is an accomplished painter and enjoys traveling to new places. Now retired, Quick lives with his wife near Chicago where he continues to paint and write.
# # #
**FOR IMMEDIATE RELEASE**
For review copies or interview requests, contact:
Matt VanScoik
317.602.7137
mvanscoik(at)bohlsengroup(dot)com