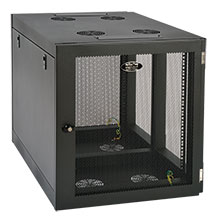 side-mount wall-mount enclosure cabinets are ideal for setups where full-depth server equipment is needed, but a full-size floor enclosure isn't required or possible
Chicago, IL (PRWEB) January 14, 2015
Tripp Lite, a world-leading manufacturer of power protection and connectivity solutions, has introduced two new heavy-duty SmartRack® wall-mount rack enclosure cabinets. The SRW12UHD and SRW18UHD wall-mount cabinets feature a sideways-mounted design that saves space and offers increased weight capacity, up to 500 pounds. Locking front and rear doors plus a side panel allow easy access to IT equipment while still keeping it secure. A dual-rail mounting design gives IT managers added flexibility by supporting square and 12-24 threaded hole mounting. These wall-mount enclosure cabinets are ideal for housing equipment in network/wiring closets, back offices, branch offices or other venues where floor space is limited.
Key Features and Benefits:
-- Heavy-duty construction for increased weight capacity—up to 500 lb.
-- Space-saving side-mount design only extends 24" off the wall
-- Dual-rail mounting design supports equipment mounting via square holes or threaded holes
-- Front and rear sets of adjustable mounting rails accommodate all standard 19-inch rack equipment
-- Fully vented doors to optimize air flow
"As rack equipment proliferates beyond the data center, it's more important than ever for IT managers to make the best possible use of available space," said Tripp Lite Product Manager Craig Watkins. "Our new side-mount wall-mount enclosure cabinets are ideal for setups where full-depth server equipment is needed, but a full-size floor enclosure isn't required or possible."
For more information on these new wall-mount enclosures, visit: Tripp Lite side-mount wall-mount rack enclosure cabinet.
To download product images, visit: side-mount rack cabinet images.
About Tripp Lite
Outstanding product reliability and exceptional service have been Tripp Lite trademarks for over 90 years. Tripp Lite´s innovations include the world's first UPS system designed specifically for personal computers, and the world's most trusted premium surge suppressor—the Isobar®—with more than 19 million in use. Tripp Lite maintains the highest level of ready-to-ship inventory in the industry with more than 3,000 different products, including UPS systems, rack systems and cooling solutions, PDUs, PowerAlert software for enterprise-level system management and control, surge suppressors, KVM switches, cables and connectivity products, inverters, power strips and notebook accessories. Headquartered in Chicago, Illinois, Tripp Lite maintains a global presence with fully staffed offices worldwide. Additional information, including a list of Tripp Lite's sales offices and authorized reseller partners, can be found by visiting Tripp Lite's website: http://www.tripplite.com.