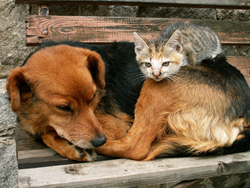 Marietta dentists and veterinarian working together to limit the number of local shelter animals needing a home.
Marietta, GA (PRWEB) January 28, 2015
"All you need is to purchase a Valentine raffle ticket to spread love for unwanted shelter pets," says Marietta veterinarian, Julian Peckich DVM. The Marietta Vet Clinic in conjunction with Verde Pointe Dental Associates have announced another fundraiser ending Friday the 13th at the professional park. One hundred percent of all monies are donated to shelter pets.
Three Marietta cosmetic dentists, Kirk Kimmerling DDS, Suzanna Aguilera DMD, and Garrick McGrath DMD and local veterinarian, Julian Peckich DVM are dedicated in making a difference for local unwanted dogs and cats. They believe the key to curbing the unwanted pet population is spay and neutering animals that otherwise would keep producing a large number of intakes at Cobb County Shelter.
Cosmetic dentists, Kirk Kimmerling DDS, Suzanna Aguilera DMD and Garrick McGrath are excited to participate in the event. "The staff and patrons eagerly purchase the raffle tickets. The doctors, staff and patients enjoy giving to local animals, and the chance of winning makes it that much more fun. It's a great day to join together to spread the love," says Dr. Kimmerling.
Tigg Neuter Project is a non-profit group of Cobb County volunteers that love animals and want to make a difference in their lives. They have "grown tired of seeing adoptable animals die simply because they have no home and there is no space at animal control," says Vicki Hammonds, Director of Tigg Neuter Project. The project believes the only solution is to have less animals coming into animal control, a goal shared by both local dentist and veterinarian offices. The Tigg Neuter Project focuses on spaying and neutering through public education, low cost to no cost vetting, allowing cats be returned to their colonies with out reproducing.
Kirk Kimmerling DDS and Suzanna Aguilera, DMD are Marietta cosmetic dentists and Marietta emergency dentists that are paving the way for the future of dentistry. The office is technologically sophisticated in not only equipment and procedures, but also developing dental materials via Kimmerling Holdings Group, LLC and fiteBac SkinCare, LLC, Dr. Kimmerling's biotechnology firms. The Marietta emergency dentists invite new patients to meet their exceptional staff and experience and benefit from state of the art dental care. The office offers a broad range of services from teeth cleaning, teeth whitening, dental whitening, dental veneers and dental implants, dental bridges, dental crowns, dental fillings, tooth implants and veneer Marietta and Marietta root canals.
Marietta Vet Clinic and veterinarian, Julian Peckich DVM, are pleased to welcome dogs and cats to the pet clinic, dog clinic and cat clinic. Dr. Peckich provides veterinary services for the Marietta, Kennesaw, Dallas, Acworth, and Powder Springs, GA. It would be their great pleasure to welcome dogs and cats to the pet family for pet vaccinations, cat vaccinations, dog vaccinations, sick animal relief, laboratory testing, pet teeth cleaning, veterinary dentistry, wellness exams, spay and neuter clinic and mobile veterinary services.