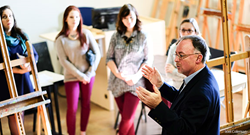 Lynchburg, Va. (PRWEB) January 14, 2015
Liberty University's School of Communication & Creative Arts welcomed its inaugural class of Master of Fine Arts (M.F.A.) students Friday, Jan. 9, in the Liberty University Art Gallery.
Last semester, the university announced the launch of the Bachelor of Fine Arts (B.F.A.) and the Master of Fine Arts (M.F.A.) programs, two of the most prestigious degrees in the arts industries. Both programs are initially being offered through the Department of Studio & Digital Arts (SADA). The B.F.A. will launch in Fall 2015.
In both programs, students can pursue studies in two-dimensional art (with courses such as photography, painting, and drawing), three-dimensional art (with courses such as sculpting and ceramics), and graphic design (with courses in web design, print design, illustration, game design, animation, and new media). The B.F.A. requires 127 credit hours and the M.F.A. 60 credit hours. Both degrees will be available online for the graphic design concentration this fall.
At the inaugural event, faculty and staff reminded the incoming students that they are making history in being the first M.F.A. class at the university.
Dr. Norman Mintle, dean of the School of Communication & Creative Arts, which includes SADA, called the students pioneers in the sense that they are starting something brand new.
"The faculty here is committed to nurturing you as an artist," he told the students. "We want to help you recognize the creativity God has given you because it is important for you to be to a spiritually inspired artist who delights in what you do because God delights in what you do as an artist."
Mintle also said that this degree is important because it allows students to receive a more focused concentration in their specific art form.
"This program will enhance our students' professional degrees so they will be more marketable when they graduate," Mintle said. "It will also help them bring greater notoriety to the university and to themselves as others begin noticing the work they produce."
Todd Smith, chair of SADA, said the goal of the program is to send students into the art industry prepared for whatever may come their way.
"The SADA Department provides numerous opportunities for graduate students to develop professionally — courses, seminars, internships, exhibits, visiting artists, and real-world learning experiences, just to name a few," Smith said. "Our goal is to further enhance their overall preparedness for the field of art and design, much like what would be available from other schools. In addition, and what makes a Liberty University M.F.A. distinct, is the goal of sending graduates into the field, whether as professors or in the industry, to be salt and light and to reflect God's creativity."
The M.F.A. students were able to get to know their faculty and staff, as well as visit the newly renovated art studio, which was designed for their exclusive use.
Hannah Lynch, a student who will be studying sculptural art in the M.F.A. program, said she is looking forward to being nurtured as an artist in a Christian environment.
"The arts tend to be more liberal (at other institutions)," she said. "Liberty is a great place to grow in your beliefs … and to use God as your inspiration. I know (Liberty) will push me to excel."
About Liberty University
Liberty University, founded in 1971, is the largest private, nonprofit university in the nation, the largest university in Virginia, and the largest Christian university in the world. Located near the Blue Ridge Mountains on more than 7,000 acres in Lynchburg, Va., Liberty offers more than 450 unique programs of study from the associate to the doctoral level. More than 200 programs are offered online. Liberty's mission is to train Champions for Christ with the values, knowledge, and skills essential for impacting tomorrow's world.