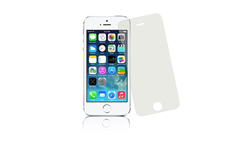 "My phone hasn't experienced any damage with this screen protector."
(PRWEB) January 15, 2015
"AmFilm" was featured on NewsWatch as part of its monthly Tech Report, which features the latest and coolest technology products available to consumers. Mallory Sofastaii, a technology expert and reporter for NewsWatch, conducted the product review and shared with viewers how AmFilm easily protects phones from impact, scratches and more.
According to Telegraph, the iPhone 6 and iPhone 6 Plus were the most popular gifts in the 2014 holiday season. Since these phones aren't cheap, they need to be protected from impact and scratches. And as any smartphone ower knows, a case and screen protector are necessary to properly protect a phone.
AmFilm stands above the competition, and that is their "hinge method" installation. The hinge method allows users to place the protector on the screen in a hinge-like fashion so it's perfectly places, easily removing the air bubbles. Once the protector is hinged on the phone, all the user has to do is clean the screen with the provided cleaning clothes, place the AmFilm on the phone, and remove any gathering air bubbles with the provided squeeze card. It's simple and effective.
The AmFilm comes with all the instructions and tools that any user would need. It is available for nearly any device, including tablets and phones, from the latest iPhone 6 to the Samsung Galaxy 5. The screen protectors range from $4.95 to $8.95.
To learn more, visit http://www.techmatte.com.
About NewsWatch
NewsWatch is a weekly 30-minute consumer oriented television show that airs on the History Channel, FYI Network, and ION Network. NewsWatch regularly features top technology products and services, mobile applications for iOS, Android, and Windows devices, unique and beautiful travel destinations around the world, health and medical tips, and entertainment interviews on the show. NewsWatch airs on the History Channel at 6:00 – 6:30 AM ET/PT and on the FYI Network from 7:00 – 7:30 AM ET.
NewsWatch is located in the greater Washington, DC area and has been on air for over 25 years. For more information or to watch the most recent episode, visit http://newswatchtv.com/tech-report.html.