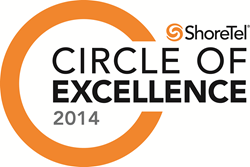 We're proud that Datamart surpassed the strict criteria required to earn Circle of Excellence status this year.
Boston, MA (PRWEB) January 14, 2015
Datamart announced today it has received ShoreTel's Circle of Excellence Award for the 2014 partner year, covering the October 2013 through September 2014 time period. The award recognizes Datamart for exceptional achievement in areas including customer satisfaction, revenue growth and proficiency with advanced applications. ShoreTel, Inc. is the leading provider of brilliantly simple unified communications (UC) solutions.
"Datamart is delighted to be recognized as one of the very few ShoreTel elite partners, particularly given that we are their first partner in the northeast", Scott St. Clair, President of Datamart, stated, "It confirms Datamart's unique value proposition, combining our over 35 years of networking expertise with focusing on only one provider – ShoreTel/ShoreTel Sky. This coupled with our world-class customer support allows us to deliver an outstanding customer experience."
"Being named to the Circle of Excellence is the highest award given by ShoreTel to its partners, and we're very pleased to welcome Datamart into this elite group," said David Petts, senior vice president of worldwide sales at ShoreTel. "The Circle of Excellence Award is presented to ShoreTel's top global reseller partners, and each year less than one-half of one percent of all partners earn this distinction. We're proud that Datamart surpassed the strict criteria required to earn Circle of Excellence status this year. "
ShoreTel partners specialize in delivering ShoreTel's solutions portfolio and training and supporting end customers. They have expertise in disciplines such as LAN, WAN, call center, voice and data application integration. ShoreTel and its partners share the same goals in delivering UC solutions that improve communication and collaboration, with superior levels of customer care and satisfaction at a low total cost of ownership.
About Datamart
For over 35 years, Datamart has helped New England businesses design, install, and support cutting-edge unified communications solutions that are vital to their success. Our experts provide each client with a custom tailored solution that meets its specific business requirements. Our extensive experience as a LAN/WAN network integration firm has given us unique perspective to choose the right technologies and the right partners to keep our customers one step ahead of the competition. Datamart's passion to deliver the highest level of customer satisfaction ensures our clients are beyond satisfied.
About ShoreTel
ShoreTel, Inc. is a leading provider of brilliantly simple IP phone systems and unified communications solutions. Its award-winning on-premises IP-PBX solution and cloud-based hosted phone system eliminate complexity and improve productivity. Recognized for its industry-leading customer experience and support, ShoreTel's innovative business phones, application integration, collaboration tools, mobility, and contact center applications enable users to communicate and collaborate no matter the time, place or device, with minimal demand on IT resources. ShoreTel is headquartered in Sunnyvale, Calif., and has regional offices and partners worldwide. For more information, visit http://www.shoretel.com.
ShoreTel and the ShoreTel logo are trademarks or registered trademarks of ShoreTel, Inc. in the United States and/or other countries.