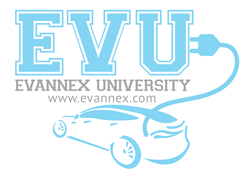 EVs [electric vehicles] are new to most people, and there's a lot of misinformation out there. With EVU, we hope to change that.
Pompano Beach, FLORIDA (PRWEB) February 05, 2015
EVannex®, the first company to focus exclusively on aftermarket accessories for electric vehicles, has created EVannex University (EVU). EVU is a free, open learning environment that presents concise, video-based mini-courses for car buyers who have interest in electric vehicles (EVs).
"Today, the average car buyer has little or no knowledge of how EVs actually work, what the pros and cons of ownership are, or why they represent an important option to internal combustion engine vehicles," said Roger Pressman, Managing Partner of EVannex and creator of EVU.
EVU's mini-courses cover electric vehicle (EV) concepts, architectures, range, batteries, economics, technology, and the "EV Debate" that pits EVs against internal combustion engine vehicles. Another curriculum track will focus on the Tesla Model S, the award-winning car at the vanguard of the electric vehicle movement. Courses in the Model S track will cover Model S features, the buying decision, charging (and supercharging), the "dealership" debate, and tips and tricks for Model S owners and those considering ownership. Other vehicle-specific tracks will be developed for the Nissan Leaf, the BMW i3, the Chevy Volt, and other EVs as they enter the marketplace.
"Today, early adopters dominate the EV market, with many everyday car buyers afraid to take the plunge," said Pressman. "EVs are new to most people, and there's a lot of misinformation out there. With EVU, we hope to change that."
Pressman, a founding Partner at EVannex, started the company when he put in his order for a Tesla Model S. He owns the 184th Model S to come off the production line and has been driving his Tesla for over two years.
"Once you drive the Model S, you're hooked," Pressman said with a laugh. "There's no car that performs as well or is as convenient to own and operate. It's time that others know that, and EVU might help get the word out."
EVannex.com is the largest aftermarket accessories online destination specializing in products for the Tesla Model S. The company designs, builds, and distributes popular aftermarket products for the Model S that have been purchased by over 6,000 Tesla owners and EV enthusiasts worldwide.
Evannex University will be rolling out free online courses throughout 2015 to address this emerging automotive market. You can enroll at http://www.evannex.com.