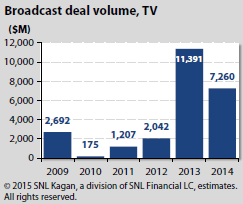 Monterey, CA (PRWEB) January 14, 2015
Announced today, broadcast station M&A volume reached $8.77 billion in 2014, excluding construction permits and partial deals, but including $1.3 billion worth of station swaps, according to research and consulting firm, SNL Kagan. The largest of these swaps was a trade of four TV stations between 21st Century Fox, Inc. and Cox Enterprises, Inc. (estimated to be worth $859 million) and the top radio deal of the year, a 19-station swap between CBS Corp. and Beasley Broadcast Group, Inc., worth an estimated $300 million.
The deal market did not repeat 2013's record-breaking $12.4 billion, but still registered the second-highest annual number since 2007. The 2014 total exceeds the deal volumes of the years 2009 through 2012 combined.
The decline compared to the previous year is mainly due to a slower pace of TV consolidation, affected by recent FCC regulatory moves. While we registered five large mergers worth between $684.7 million and $2.725 billion in 2013, there were only two such transactions in 2014, the largest being the $2.49 billion merger between Media General, Inc. and LIN Media LLC.
TV deal volume reached a total of $7.26 billion, which is only 64% of last year's total ($11.39 billion). Overall, 145 full-power TV stations changed hands, bringing the average price per station to $49.1 million, compared to 286 full-power TV station sales for $38.9 million average in 2013. The average forward seller's broadcast cash flow multiple for TV stations remained steady at 8.1x (8.2x in 2013).
Radio deal volume on the other hand rose by an impressive 48% from $1.02 billion in 2013 to $1.51 in 2014. In total, 258 AM and 501 FM stations were sold, vs. 219 AM and 419 FM stations in 2013. The average price for an FM station rose from $2.0 million in 2013 to $2.5 million in 2014; average prices for AM stations rose slightly from $0.76 million to $0.86 million.
The average forward seller's broadcast cash flow multiple for radio stations remained almost unchanged at 6.9x (7.0 in 2013). 70% of all radio stations sold were located in markets smaller than rank 75 or in non-rated regions. This area has become the most active part of a still vibrant broadcast deal market.
About SNL Kagan
SNL Kagan, a division of SNL Financial LC, is a comprehensive resource for financial intelligence in the media and communications sector, including the broadcasting, cable, entertainment, motion picture, telecom, wireless, satellite, publishing, new-media industries and media technologies. The SNL Kagan suite of products integrates breaking news, comprehensive data and expert analysis into an electronic database available online and updated around the clock. For more information, visit http://www.snlkagan.com.
Visit the SNL Press Room to learn more about resources available to members of the media.