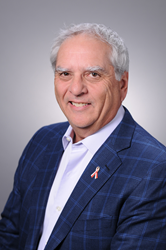 Arlington, VA (PRWEB) January 13, 2015
There is now a new weapon in the battle against gum disease in Arlington, VA. Dr. Steven N. Rice is specially trained and certified to administer laser gum surgery at his office in Rockville, MD, and is extending an invitation to Arlington residents to experience the benefits of this technology. Dr. Rice is part of the one percent of dental professionals who are changing the face of the fight for oral health with the LANAP™ protocol. The minimally invasive procedure features a computer-guided laser that targets infection and damaged tissue along the gum lines, leaving healthy strong gums firmly attached to the teeth with no pockets of infection remaining to cause further damage.
As in America at large, gum disease in Arlington, VA is a silent epidemic, affecting nearly three of every four adults with some level of gingivitis. Studies have shown links between the presence of periodontal disease and increased risks of some very serious health conditions, including:

Cancers of the head, neck and pancreas
Heart attack
Stroke
Complications with diabetes
Increased risk of low-birth weight and pre-term deliveries
Cognitive deficits and dementia
Fortunately, Dr. Rice has the training and skills to administer the first FDA cleared laser gum surgery, the LANAP™ protocol. With traditional gum disease surgery, damaged gum tissue is cut away with scalpels and the gums are stitched into place. The result is significant trauma to the mouth, and a lengthy healing time with the standard treatment. Now, the fight against gum disease has entered the 21st century. Dr. Rice utilizes laser heat to incinerate the infection and damaged tissue, then seals the area with laser light for rapid healing.
The potential damage associated with putting off treatment for gum disease in Arlington, VA is a significant risk. On the other hand, consultation with the dentist about the potential for LANAP™ surgery to eliminate the dangers of progressive gum disease is simple, and the procedure itself is quick and effective. Most patients report little to no bleeding and only slight discomfort with the procedure.
For details about the threat of gum disease that Arlington, VA residents face visit the office on the web at http://www.advancedgumsurgery.com. Learn how to fight back; call the office at (240) 747-7355 for more about laser gum surgery that is changing the game of oral health.
About the Practice
Advanced Laser Gum Surgery- Institute of Washington is a periodontal practice offering patients personalized dental care in Rockville, Maryland since 1981. Dr. Steven N. Rice received a Doctor of Dental Surgery degree from the University Of Maryland School Of Dentistry. He continued his education as a General Practice Resident in the United States Army, where he was awarded a Medal of Commendation. He studied periodontics at the Medical College of Georgia and was recognized as a Diplomate of the American Board of Periodontology upon completion. Dr. Rice is part of one percent of dental professionals providing the LANAP® FDA cleared laser procedure for gum disease treatment. To learn more about Advanced Laser Gum Surgery Institute of Washington and their dental services visit their website at http://www.advancedgumsurgery.com and call (240) 747-7355.