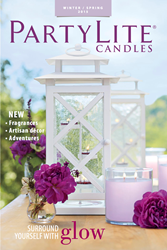 Our customers are passionate about candles. They love the sense of warmth and celebration that candlelight brings to their rooms. They're creative, romantic and eager to have fun and express their real personalities when they decorate.
Plymouth, MA (PRWEB) January 14, 2015
What's new and next for home décor in 2015? The key word is INSPIRATION, says PartyLite, the world's number one candle party company. And the new PartyLite Winter Spring 2015 catalog is the perfect place to find it.
"Our customers are passionate," says Joan Connor, president of PartyLite North America. "They don't just like candles, they love candles! They love the sense of warmth and celebration that candlelight brings to their rooms. They're creative, romantic and eager to have fun and express their real personalities when they decorate.
"They also care passionately about friends and family and community – and about people who may need a helping hand, too," she said. "If you read through our new catalog, you'll feel all of that great passion shining right through its pages."
A preview of some major themes:
Expanded Collections – More of What Everyone Loves
Some of the most popular PartyLite collections have grown, so new pieces can be added to an existing set – or a new collection can be started. For example:

Jonathan Adler for PartyLite® – Fans loving the first collection will love the new addition – a collection called Safari Chic. It's a fabulous walk on the wild side with the famed potter, designer and author. Exotic new candles, candleholders, animal motifs and a splash of metallic, and it all works seamlessly with the existing pieces.
Vienna Collection - This beautiful group in an updated, elegant Art Deco motif has been turning heads everywhere with its mosaic patterned, hand-placed glass pieces. Now, have a look at the amazing new sconces just added to the collection. Great statement pieces will bring added glamour and drama to any room.
Forbidden Fruits- The PartyLite collection that's the very definition of sheer romance has turned the temperature up a notch - or two. Now there are new candles, new holders, a glamorous new hurricane, more melts, more warmers and the ultimate new candle idea: the Forbidden Body Sensual Massage Candle. Wow!
DIY "Decorate It Yourself" - More of "What You Love to Do"
Clearly Creative™ Collection – One of the most stunning and versatile glass collections anywhere, this terrific collection -- with new pieces from the Symmetry group -- provides the ultimate freedom in clear glass at varied heights. The rest is personal! Just add what inspires– such as shells, moss, flowers, fruit, ribbons, marbles, corks. It's 100% personal preference.
Clearly Creative Votive Holders - Personalized candle holders! Here's the chance to get crafty with a brand new decorating kit that provides everything needed to design votives that nobody else has.
Helping Others, Too - More of "What You Care About"
Brighter World™ by PartyLite - Natural, soy blend candles with exotic fragrances from faraway places. Created in partnership with renowned fragrance house Givaudan, these candles help us all to "give back." Thanks to a special program supported by PartyLite and Givaudan, the plants needed for these fragrances are being saved from extinction. Plus, the program ensures a livelihood for the farmers who harvest the plants -- in Africa and Laos and now in France, where the lavender of Provence is threatened by disease.
Brighter Home™ by PartyLite- A new décor collection complementing the Brighter World candles. These candle holders are crafted using socially responsible practices -- from honoring cultural craft traditions to being sensitive to the environment. Artisans in India craft these soapstone candleholders into beautiful shapes and forms by hand.
GloStrong™ GloLite Jar in Forever Mango - This charming new jar candle with a tender red heart on the glass is the 2015 special candle. A portion of each sale is donated to support the American Cancer Society in the United States and Children's Miracle Network in Canada.
About PartyLite
PartyLite is the world's #1 party plan company selling candles, candle holders, flameless fragrance and wax warmers as well as holiday and home décor. PartyLite products are available in 23 countries, predominately through independent PartyLite business entrepreneurs. Since 1997, the PartyLite family of consultants, customers and employees has raised more than $14 million for the American Cancer Society and nearly $4 million for Children's Miracle Network. In 2015, PartyLite celebrates 42 years as the global leader in its category and 25 years as a member of the distinguished Blyth family of direct selling companies (NYSE:BTH). PartyLite is one of 53 Direct Selling Association member companies recognized during the 2014 annual meeting for participating in DSA's Code Communication Initiative, focusing on observing and communicating the DSA Code of Ethics as widely as possible. Based in Plymouth, Massachusetts, PartyLite is a member of the Direct Selling Association and the Better Business Bureau. For more information, please visit http://www.partylite.com.