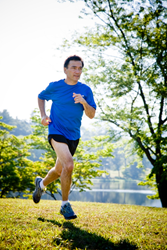 Since 1999, the ChiRunning technique has made running safer, easier, and more enjoyable for hundreds of thousands of runners.
Asheville, NC (PRWEB) January 14, 2015
Learn a revolutionary way to run and walk that helps prevent pain and injury while increasing endurance, strength and performance. ChiRunning's founder, Danny Dreyer, is embarking on a Spring workshop tour with events throughout the U.S. Dreyer is one of the original founders of the natural running movement and has taught a full circuit of nationwide workshops since 2004.
Dreyer is now offering ChiWalk-Run and ChiWalking tracks at his workshops so participants of all levels and interests can enjoy the benefits of the Chi techniques.
Workshop schedule:

February 21 - Phoenix, AZ
March 7 - Miami, FL
April 11 & 12 - New York, New York
April 25 - Washington DC
May 16 - Dayton, OH
June 20 – Asheville, NC
June 27 – Portland, OR
August 2-7 - Stockbridge, MA (Kripalu Retreat)
Details and registration information for each workshop are available on the ChiRunning website.
ChiRunning offers a fresh solution to common running injuries and ailments experienced by 60-70% of runners each year. This technique combines the ancient wisdom of T'ai Chi with modern physics to help runners practice proper biomechanics, allowing them to run farther and faster with less effort while reducing the risk of injury. Runners and walkers of all ages and levels are welcome to attend, from beginners to seasoned marathoners to competitive athletes.
The ChiRunning & ChiWalking techniques make running and walking possible for those who have stopped their fitness program because of injury, who are intimidated by potential injury, who want a competitive edge, or for those who seek a meditative component in their fitness program. Since 1999, the ChiRunning technique has made running safer, easier, and more enjoyable for hundreds of thousands of runners.
"I just want to say 'Thank You!' This weekend I experienced for the first time the feeling of being able to run forever. Running was actually effortless, fun, and the big plus was no knee pain," says workshop attendee, Ruth Michael.
Danny Dreyer, along with over 200 Certified Instructors, teach sold-out workshops across the U.S. and around the world and have been featured in AARP, NPR, The New York Times, USA Today, Huffington Post, Runner's World, Running Times and many more. The DVDs and books, ChiRunning and ChiWalking, by Danny and Katherine Dreyer are No. 1 sellers in their categories on Amazon.com. ChiMarathon was published in March 2012.
For interview requests or to attend a workshop, please email Natalie(at)ChiLiving(dot)com, or call 828-252-9828.
About ChiRunning & ChiWalking
ChiRunning® and ChiWalking®, the mindful movement techniques created by Danny Dreyer and Katherine Dreyer, are brands that go beyond the popular book titles, ChiRunning® (2009), ChiWalking® (2006) and ChiMarathon (2012) (Simon & Schuster/Fireside). The ChiLiving offerings - books, DVDs, audio programs, training programs and workshops - are infused with the movement principles of the ancient practice of T'ai Chi and its philosophy of moving from the core. ChiLiving supports groups and individuals to make healthier, long-term fitness choices. Learn more at http://www.chirunning.com.
###