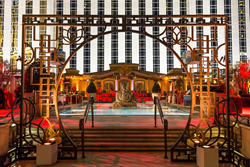 Los Angeles, California (PRWEB) January 15, 2015
LOS ANGELES (January 12, 2015) At a black-tie ceremony in Anaheim, California, Special Events magazine awards its top prize for Best Corporate Event $250,000 - $500,000, to russell harris EVENT GROUP. This is the fourth nomination and second win for RHEG.
The Gala Awards have been given by Special Events, a premier industry publication, since 1986. For the 2015 Gala Awards the magazine received entries in 35 categories from nine countries – Canada, China, Germany, India, Ireland, Russia, Spain, the United Kingdom, and the United States of America.
RHEG's entry "Beaches of the World" was produced for a global tech giant, and was staged poolside at the Venetian Hotel in Las Vegas, NV. The event proved to be as engaging as it was entertaining for the more than 3,500 international conference attendees.
russell harris EVENT GROUP has been designing and producing award-winning live events for corporate and entertainment clients for over 25 years.
For a complete list of 2015 Gala Award winners, http://specialevents.com/gala-awards/gala-award-winners-named-special-event-2015
Contact:
Russell Harris, President
(818) 760-6779
http://www.rheventgroup.com