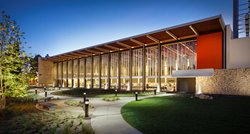 While our firm has changed a great deal since 1965, I believe that our 50th anniversary is testimony to two important constants here at LPA: great clients and great people.
Irvine, CA (PRWEB) January 14, 2015
This year LPA Inc., one of the largest integrated design firms based in California, will celebrate 50 years of architectural services and a tradition of design excellence. The company has a distinct history of expertise in architecture, design and planning and is recognized as a leader in green building design.
"While our firm has changed a great deal since 1965, I believe that our 50th anniversary is testimony to two important constants here at LPA: great clients and great people. We have been fortunate to have both in abundance," said Dan Heinfeld, FAIA, president of LPA.
People
Founded in 1965, LPA opened its first headquarters in Orange, California, which was the site of the firm's first American Institute of Architects (AIA) Design Award in 1971. Today the company has expanded to more than 220 employees and has opened offices in San Diego, San Jose, Roseville, California and San Antonio, their first out-of-state office. With more than 600 major design awards that attest to LPA's commitment to quality design, the firm designs a diverse range of facilities that span from K-12 schools, colleges and universities, to corporate, healthcare and civic establishments.
Jeffrey Gill, FAIA, executive director of AIA Orange County, states, "LPA has been an important part of our region's design history, which is well-documented by the fact they have won more than 100 AIA design awards from our local AIA Chapter."
A strong testament to LPA's history of creating spaces that enrich the lives of those who use them, Gill continues, "LPA's approach to finding the synergies between great design and sustainability is at the forefront of what we as architects should be doing to create better work environments for our clients. On behalf of the AIAOC, I want to congratulate LPA on their 50th anniversary and thank them for their long-term commitment to the chapter and our built environment."
Places
The company pioneered an integrated design approach by expanding to offer interior design services in 1985. From there, LPA began to incorporate more employees and disciplines with landscape architecture in 1993, mechanical engineering in 2007, followed by civil and structural engineering and electrical engineering.
"We believe that integrated design makes us more valuable to our clients because when we bring all the disciplines together in a collaborative process, we can shape a project from the very beginning to do more with less: more design, less resources," says Heinfeld.
Keeping with LPA's forward-thinking design methods, the firm has always had a deep passion for sustainability and has been advocating the message that sustainable design is smart design and can be achieved on any project, budget, building type and location. In 2001, the firm completed Premier Auto Group – the first LEED NC project in the nation. Most recently, LPA reached a milestone of their 50th LEED certified project of e3 Civic High School in San Diego, California.
"In a world where companies regularly fall victim to changing economies and tastes, celebrating a 50th anniversary is a significant achievement," says U.S. Green Building Council (USGBC), CEO Rick Fedrizzi. "The fact that this anniversary coincides with LPA's 50th LEED certification speaks volumes about the strong values underlying its long-term success. And the fact that this 50th certification adds one more green school to our U.S. inventory is cause for celebration indeed. Congratulations to LPA and thank you for your continued leadership in the green building movement."
Additional notable sustainable projects completed by the firm include: Toyota South Campus (the largest LEED private facility in U.S. in 2003); JPL Flights, NASA's first LEED project; California State University of Northridge Student Recreation Center; Environmental Nature Center and Coastline Community College.
Communities
To commemorate the anniversary and continue LPA's long-standing reputation of community involvement and outreach, the firm is launching LPA Foundation. With the company's values serving as a solid groundwork, LPA will strengthen their approach to creating a sustainable future by formalizing a commitment to educational, social and environmental research and progress through the LPA Foundation.
One of the foundations first commitments is the planting of 250 trees — 50 in each in their five offices locations — in concert with regional and national Arbor Day dates. This is also an opportunity to provide education to fellow community members about the benefits of sustainability and environmental stewardship.
"I am excited about the formation of the LPA Foundation as it reflects LPA's commitment to a sustainable built environment for future generations. The foundation will be an important part of LPA's legacy," says Kevin Sullivan, ASLA, LEED AP BD+C and principal at LPA.
Also in 2015, the firm has launched LPA in+site — a platform on their website dedicated to celebrating the company's communities, places and people in a collection of posts and pictures. In time, LPA in+site will evolve as a platform to express the firm's vision for the next 50 years for both LPA and the regions and clients they serve.
Heinfeld summarizes, "We are excited about the opportunities in our future and to continue our commitment to creative excellence, sustainability, integrated services and providing our clients with the highest level of service and enthusiasm for years to come."